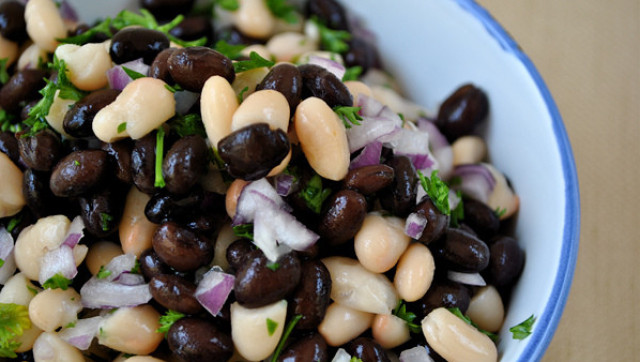 How are you guys handling cooking without power? Hurricane Sandy left millions without power across the East coast of the U.S. -- the outages have even extended into Canada. We call NYC home, and know that hundreds of thousands of our neighbors are still working by candlelight today. We also know that when you're cooped up in an apartment for days, especially one that doesn't have lights or refrigeration, a satisfying, healthful and delicious meal can be extremely fortifying.
It's time to make the best of the pantry items you probably stocked up on when you heard Sandy was taking aim at the East Coast. Other items that will stick around unrefrigerated like some vegetables (carrots, onions, tomatoes) may also be kicking around, not to mention that spice cabinet lending a hand when we need it most. Over at TODAY.com, they're pulling together a tuna and bean salad in vinaigrette that will give your taste buds some much needed relief with totally minimal effort.
Another suggestion from TODAY that we love, just in case you've got some zucchini, carrots, etc. that are usable:
Yellow and green raw zucchini salad

Use a vegetable peeler to slice vegetables into ribbons, then dress with olive oil, vinegar and lemon. Sprinkle with parsley. Feel free to add carrots as well; they can be cut into ribbons.
We love that these ideas incorporate lemon juice, since it's going to brighten up your food and give you some much needed vitamin C. Also, never underestimate the power of hot sauce. Want more ideas? Definitely check out Food52's five-ingredient-or-less recipes, our hurricane food safety tips and see how fellow storm-weatherers have been dealing with their pantries.
If you've been stuck inside for the last few days, with power or without, let us know what you've been cooking up in the comments. You might inspire someone else who's out of ideas!
Want to read more from HuffPost Taste? Follow us on Twitter, Facebook, Pinterest and Tumblr.
BEFORE YOU GO
PHOTO GALLERY
Healthy Food To Eat During A Storm