On Thursday, NASA released a stunning time-lapse video that captures superstorm Sandy's entire lifespan from space.
The video, which spans the storm's development from Oct. 21 through Oct. 31, was made from images taken by NASA's GOES-13 observatory, in geosynchronous orbit above the Caribbean and the Eastern Seaboard.
SCROLL FOR PHOTOS, LIVE UPDATES
Sandy began as a tropical storm in the Caribbean before strengthening and becoming a hurricane that raged through the Bahamas. It briefly downgraded in intensity before rebounding and slamming the mid-Atlantic coast of the United States, where it made landfall in New Jersey on Oct. 29.
The crew of the International Space Station took photos of Sandy from space as the ISS passed over the superstorm Monday morning. Ultimately, hurricane-force winds from Sandy would cover an area of nearly 2 million square miles.
Sandy's record-breaking storm surge swamped low-lying areas of New York City, crippling mass transit. The storm displaced tens of thousands of residents in New Jersey, New York, Maryland and other Eastern states, and knocked out power for more than 6 million people.
After landfall, Sandy was downgraded to a post-tropical cyclone, but it continued to affect a large area with severe weather. Sandy pummeled West Virginia with heavy rain and blizzard conditions, and kicked up 20-foot waves that brought cargo shipping to a halt on the Great Lakes.
LOOK:
PHOTO GALLERY
Superstorm Sandy: Photos From October 30, 2012
BEFORE YOU GO
11/04/2012 12:26 AM EDT
PHOTO: A Marathon Wedding Proposal, Minus The Marathon
HuffPost's Katie Bindley reports:
Like all the competitors who trained for the 2012 NYC Marathon, Hannah Vahaba will not be running the race this year. But she also will never forget her moment at the finish line. After traveling in from Atlanta, Vahaba picked up a marriage proposal in Central Park on Saturday without having to traverse the 26.2-mile course.
"This is my fiance," said Vahaba, 31, who had tears running down her face as she stood in Central Park where the race would have ended, just moments after Martin O'Donoghue had proposed.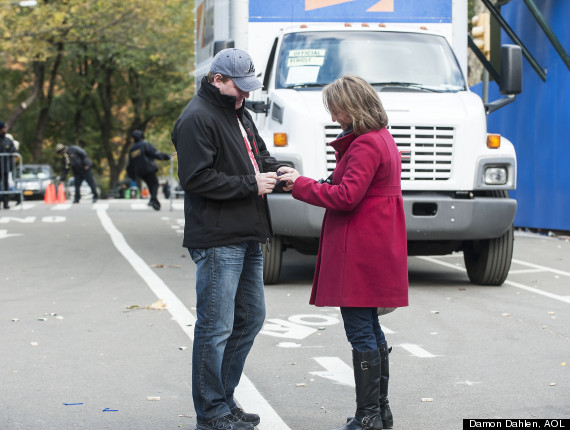 Photo by Damon Scheleur