An upcoming auction of vintage space artifacts will include an original Apollo 14 mixtape. Yes, the actual jams grooved to by astronauts in outer space can be yours, for the right price.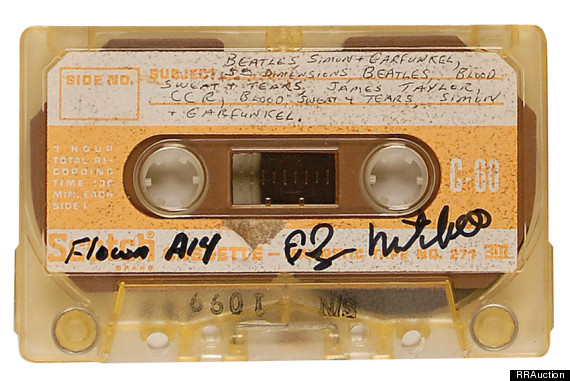 The well-travelled cassette is just one vintage space artifact up for grabs from NASA's Apollo 14 and 15 missions, which are on sale November 21. Other sought-after goodies include Neil Armstrong's "One Small Step" note and a projected $250,000 space cuff. If we're honest, though, we really can't get over the mixtape. Given the high stress levels of creating a solid road trip compilation, we can't even imagine the sweat that went into producing this musical chunk of history. The classic lineup features the Beatles, Simon & Garfunkel and Creedence Clearwater Revival -- a selection we hoped included "Bad Moon Rising." We can only guess what Rob Gordon in High Fidelity would have to say about the songs that made the cut.
Bobby Livingston of RRAuction wrote in the release: "This is truly one of the rarest space artifacts available, and collector and institutional interest is bound to be intense." We believe Livingston is on target with this one, assuming the bidders have all kept their cassette players.
See more of the goods up for auction in the slideshow below and let us know what songs you would put on your space mixtape in the comments section.
PHOTO GALLERY
Space & Aviation Auction
BEFORE YOU GO