 WASHINGTON -- Youth voters are engaging with this year's presidential campaign in increasing numbers as Election Day nears, according to a new survey released by The Center for Information and Research on Civic Learning and Engagement.
After surveying the same group of young voters between 18- and 29-years-old in mid-summer and then again in mid-October, Tufts University's CIRCLE reports that the number of individuals who say they are "extremely likely" to vote this year has leaped by close to 10 percentage points to nearly 55 percent. A full two-thirds of the youth surveyed said that they were either extremely or very likely to cast a ballot in the presidential contest, a bump of 7 percent.
Increased youth engagement is good news for President Barack Obama, who mobilized substantial numbers of young voters in 2008. But while the survey, which queried 1,695 and 1,109 young voters in June/July and October, respectively, reflects a surge in youth interest, the youth turnout could still fall below its 2008 high-water mark.
A September report from the Pew Research Center found that youth engagement has trailed behind its 2008 levels. Only half of voters under age 30 were absolutely certain that they were even registered to vote in this election, according to polls conducted throughout 2012. In 2008, that number hovered at around 60 percent.
The study concludes that flagging enthusiasm levels have hit the 18- to 29-year-old demographic particularly hard.
"This slippage is particularly steep among voters under 30; just 61 percent are highly engaged in the 2012 campaign, down from 75 percent at this point four years ago," the report concluded. "By contrast, fully 86 percent of voters 65 and older are highly engaged, which is unchanged from four years ago."
But the CIRCLE survey does indicate that the engaged youth are still leaning predominantly towards Obama. If the election had been held at the time of the survey in mid-October, the president would have drawn votes from 52 percent of those between 18 and 29 who consider themselves extremely likely to vote. Gov. Mitt Romney would have taken 35 percent.
Since July, Romney has seen his support plummet, particularly among black and Latino youth -- by 5 percent and 17 percent, respectively. Obama, on the other hand, has had significant traction with both demographics.
The Obama campaign seems to be making more of an effort to target young voters, according to CIRCLE data. Out of those individuals contacted by a campaign, close to 60 percent received calls from Obama's field staff or volunteers. Only 32 percent reported having heard from Romney's campaign.
Mobilizing young voters is likely to be key in swing states like North Carolina, which tipped in Obama's favor in 2008, when Obama's campaign reached out to 46 percent of young voters statewide, as compared to Sen. John McCain's (R-Ariz.) 29 percent.
Jane Hall, a 21-year-old senior at the University of North Carolina at Chapel Hill who volunteered for Obama in Charlotte in 2008, is now working to get the vote out among her fellow students in 2012. When she makes calls from the local OFA office, she says that the campaign staff are clearly focused on the youth demographic.
On Thursday night, Hall and several other UNC students held a phone bank specifically targeting their classmates in order to ask them whether or not they had cast a ballot yet and to give them important voting information ahead of Election Day.
"That was a fun twist," Hall told HuffPost. "Usually when we do 'get out the vote' stuff, it's a lot more generalized. You're calling a lot more family homes and older people ... It's cool to talk to people your own age -- to be able to say, 'Hi, I am actually another student at UNC, and I think it's really important for you to go vote.'"
According to the CIRCLE study, young voters are more than 40 percent more likely to turn up at the polls if they are asked to vote by a friend. Hall agrees that holding friends and acquaintances accountable does more to mobilize people, particularly given how saturated with campaign advertising the North Carolina airwaves are.
"[With] all these television ads, Pandora ads, things like that -- we are all just so immune to them now, and we're all just so good at ignoring them," Hall said. "I think it's more of a personal thing at this point: 'You have four days. There's four days and it's going to decide the next four years.'"
But she acknowledges that she has seen less enthusiasm among people her own age this year as opposed to 2008, but she doesn't think it reflects on Obama's first term.
"Reelecting the first black president is not as exciting as electing the first black president," Hall said. "That is the bottom line."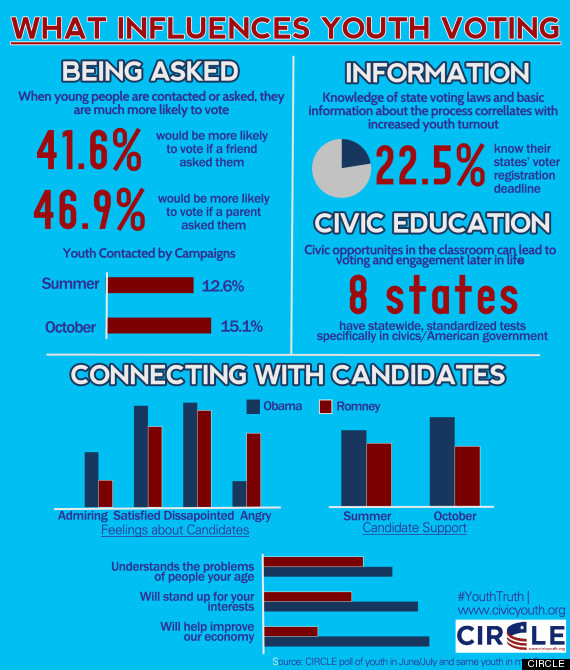 (graphic courtesy of CIRCLE)
BEFORE YOU GO
PHOTO GALLERY
100 Years Of Election Night Winners