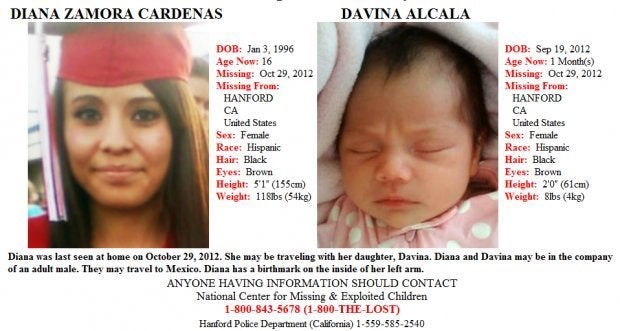 Police say a California teen mom is on the run with her infant daughter and a boyfriend, who is wanted for questioning in a homicide.
According to Lt. Pat Crowe, the mother and daughter are believed to be in the company of her boyfriend, 19-year-old Nicolas "Nico" Alcala.
"The baby daddy is the one we believe she left with or is going to meet up with," Crowe told The Huffington Post. "He is currently wanted for a homicide that occurred in Fresno County."
Alcala allegedly shot and killed 34-year-old Pedro Aispuro on June 4 in Huron. The victim was standing outside a taco truck at the time of the shooting.
"There was a large gathering on the main street of that city. There was a fight and shots were fired. As a result one person is dead having been shot numerous times," Fresno County Sheriff Margaret Mims told KFSN-TV on the day of the shooting.
Family members told KFSN-TV that Aispuro had survived being shot four times during another shooting on January.
Cardenas was last seen Sunday, at her Hanford home with her daughter. Investigators said Cardenas friends have been less than cooperative with the investigation.
Authorities suspect Cardenas, Alcala and their child could be hiding in Avenal or Kettleman City. Investigators believe they may flee to Mexico.
If you see the missing trio, call the Hanford Police Department at 559-585-2540 or the National Center for Missing and Exploited Children at 1-800-843-5678. Police said Alcala is considered armed and dangerous.
BEFORE YOU GO
PHOTO GALLERY
Missing Children