NEW YORK -- Frank Jezycki shut his eyes for two hours Wednesday night.
Compared to the last few days, that was a good night's sleep for New York City Transit's chief infrastructure officer with the Department of Subways.
"What day is it?" asked Jezycki, standing in his yellow galoshes Thursday in the almost apocalyptic-looking Water Street Whitehall subway station and pointing out pieces of debris -- nail-studded lumber, scattered subway tiles and turned over Village Voice newspaper boxes -- to avoid.
The flood of water that Hurricane Sandy pushed into the city Monday night carried those items and other bits too shattered or coated in a haze of salt residue to identify down the subway stop's stairs, just yards from the entrance to the Staten Island Ferry. The sheer strength of the storm surge stripped an entire station wall of its subway tiles, right down to the concrete.
The scope of the damage from the storm, and the time it might take to repair it all, may be difficult to conceptualize for New Yorkers eager to resume their normal routines. What the estimated 8.7 million people who rely on New York City Transit daily know is that only partial train service has resumed.
In the absence of a functioning subway system, fare-free and jam-packed buses have shuttled about 5 million people around the city each day since resuming service Tuesday night, according to transit officials. And on New York's streets, the gridlock that has developed has been so fierce that by Wednesday, Mayor Michael Bloomberg and Gov. Andrew Cuomo implemented mandatory car pooling for most drivers entering Manhattan.
What many have not seen first hand are the myriad ways that New York's transit system took a serious hit. Storm waters washed out sections of train track in Rockaway, Queens. Hurricane-force winds ripped the canopies and windshields from platforms in several areas served by elevated trains. And then there are places like the Water Street Whitehall station, where water at one point rose three feet high.
"The finished wall was actually washed away," Jezycki said Thursday, pointing to the section of the station where the wall had been stripped of its tiles.
Underground, portions of New York look like the partially-submerged remains of a lost city where just a few rats survive. Seven of the 14 tunnels that allow subways to move between Manhattan, Brooklyn, Queens, the Bronx and New Jersey flooded during the storm.
Now, hundreds of city, state and federal workers like Jezycki have been working 16-hour shifts to pump all the water out, and assess and repair the damage. Some areas will take longer than others.
"The Montague Street tunnel had the most extensive flooding," said Jezycki, about the pathway connecting the Water Street Whitehall station near the tip of Manhattan with Brooklyn. It didn't just flood. It filled.
"It's still full," Jezycki said. "Here to Brooklyn."
In the Montague Street tunnel and other parts of the system, crews are working to pump out and remove water. Once gone, transit staff who usually inspect, maintain and repair the subway system's tracks, electronic signals, fare machines, turnstiles, escalators, overhead lighting and other components will come in to test, replace and mend portions of the New York subway system. So far, some equipment has proved still functional. Much of it will have to be replaced, Jezycki said.
New York City Transit keeps a certain amount of replacement stock -- everything from white subway tile to fare machines -- on hand, said Jezycki. He anticipates that the system has enough of its standard construction materials to take care of problems such as the collapsed subway wall tile facade. He was less certain about the transit system's supply of other equipment and machinery.
The network of people contributing to the system clean up includes New York City Transit workers and crews from its parent agency, the Metropolitan Transit Authority, state and city Department of Transportation staff and the Army Corps of Engineers. Some MTA workers said they have been forced to carpool or rely on coordinated MTA van pick-up service in order to get from their homes in the Bronx, Brooklyn and Queens, where subway service remains limited, to the areas where they work. In Manhattan, most subways are running only as far south as Times Square.
Chris Gardner, a spokesman for the Army Corps of Engineers, was stationed near the Staten Island ferry and explained that an entire barge of water pumps had been brought in on Thursday morning to assist in removing the water from the tunnels.
"One of the things you've got to figure out is where you can get the water out, where you can set up safely the equipment, and then of course what you're going to do with the water," Gardner said. "Ultimately, a lot of the water is just going to go back where into the harbor where it came from, if it's water that can can go back."
Flood waters often contain a stew of hazardous substances. Before workers can begin pump-out work in any station, the New York Department of Environmental Conservation or transit system safety staff test its contents, Jezycki said.
Thursday afternoon, federal engineers were also working near the Water Street Whitehall station to get water out of the Battery Park underpass.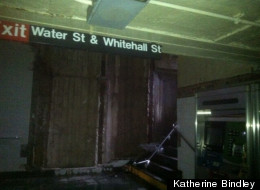 "It will take a while because it's a tremendous amount of water," Gardner said. "I know people think everything happens overnight, but the fact that we're already beginning to pump out the underpasses, it's a pretty big deal."
Jezycki said it may take a month to reopen a hard-hit subway stop such as Water Street Whitehall. The damage is nearly the most extensive he's seen in his 27-year career, he said. The only situation worse: subway stops near the World Trade Center after Sept. 11.
Dimitri Grivas, executive director of the Institute for Infrastructure Asset Management in Albany, N.Y., said flooding and wind damage to a transit system first designed and built more than 100 years ago are not surprising or even unusual after a hurricane.
"The very fact that the transit system's central structures, the bridges, the tunnels, the subway system are still standing, I think is a testament to the integrity of the design," Grivas said.
But there are notable differences in the way that some parts of the city's transit system fared during the storm.
The Lincoln Tunnel, a pathway for vehicles built in the 1930s that runs through the Hudson River and connects New York with New Jersey, never flooded. The Holland Tunnel, which connects the two states just a few miles to the south and spans the same body of water, took on water but is expected to open Monday. It was built in the 1920s.
The different outcomes are likely a function of geography and the different materials used to build the New York City transit system over time, Grivas said.
"What has truly become clear is the interconnectivity and interdependence of our infrastructure systems," said Grivas.
Jezycki's team, the Army Corps of Engineers and others can work hard removing water and debris from the system, replacing water-logged fare machines and salt-coated signals that allow the city's subways to operate. But, the city's connective tissue -- its transit system -- ultimately cannot operate without electricity.
On Thursday, Gov. Cuomo issued a statement that openly blamed ConEdison, New York's electricity provider, for delays in restoring more subway service and sent a warning letter to the directors of all the state's utility companies. Those that fail to restore service quickly because they were ill prepared for the storm could lose their licenses to operate and the directors running publicly-owned utilities could lose their jobs, Cuomo said in the letter.
While Cuomo made clear that he will hold utilities accountable for failing to prepare for the storm, there are some aspects of post-storm recovery work that can't be anticipated.
Steve Schlickman worked for the city of Chicago when water from the Chicago River flooded the area's abandoned freight tunnels and eventually some of its subways. He noted that New York workers might encounter their fair share of structural surprises in the coming weeks, thanks to the age of the city's infrastructure.
"It's a maze of conduits and a maze of even unknowns, or lost underground facilities, that people don't even have a good record of anymore. They're all interconnected at some point," said Schlickman, who is now the director of the Urban Transportation Center at the University of Illinois Chicago. "The water is just going to find its way through cracks, aging cracks, or forgotten utility pipes, and it's going to get into their system, and there's not a whole lot you can do about it."
*************************
The Huffington Post is eager for insights from our community, especially people with experience in power, infrastructure and engineering, on the adequacy of emergency preparation in advance of Hurricane Sandy, and the degree to which past disasters have informed adequate planning and construction. Please send a note to sandytips@huffingtonpost.com with insights and suggestions for the important questions that need to be asked of relevant private sector and government officials, and point us toward stories that need to be pursued.