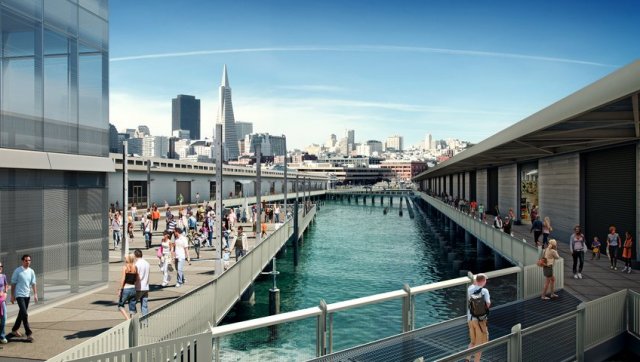 After several months of mum fundraising and planning, the Exploratorium released details on its new $300 million facility at Pier 15 on Thursday.
The museum, which opened at the Palace of Fine Arts nearly 44 years ago, has been working towards the move for years. And with $250 million raised--80 percent of its goal--plans are finally coming to fruition.
The museum will open on April 17, 2013 in its 300,000-square-foot new waterfront home. The opening will feature 600 exhibits, 150 of which will be new, including installations designed to take advantage of the museum's new indoor-outdoor space.
"The opening date is set and we are grateful to all those who have supported us in making this move possible," said Exploratorium Executive Director Dennis M. Bartels in a release. "The scale of our new home on Pier 15 will not only allow us to welcome a magnitude of new visitors, but also broaden our impact around the world by developing new experiences that make science accessible to all; learning environments that inspire creative and critical thinking; and methods of teaching that excite students, educators and adults alike."
The current museum at the Palace of Fine Arts will remain open until January 2, and will then close for the move. Fortunately, the new museum's April opening date will come just in time for the SFMOMA's three-year renovation closure this June. (Otherwise, good lord, what would museumgoers do with themselves?)
The Exploratorium also announced some new board members: former Director of Technology at Google Craig Silverstein and PG&E Chairman, President and CEO Anthony F. Earley Jr.
Check out renderings of the new Exploratorium at Pier 15 in the slideshow below:
PHOTO GALLERY
Exploratorium