When most people hear the name Jasper Johns, a similar image comes to mind. An American flag, flattened on canvas, the greatest symbol of our country unhinged from its symbolic meaning and appreciated as pure image. The reds and blues are rough and complex, the lines shaky and raw, the canvas' texture worn with history.
Johns takes an image so often seen but rarely examined and turns the tables. This move, bringing simple images and familiar symbols to a place of mystery and awe, was Johns' specialty. Throughout his 60 year career he turned numbers, maps, targets and other commonplace objects into sites of reverence. An exhibition at SFMOMA will examine Johns' great contribution to contemporary art and seeing in general.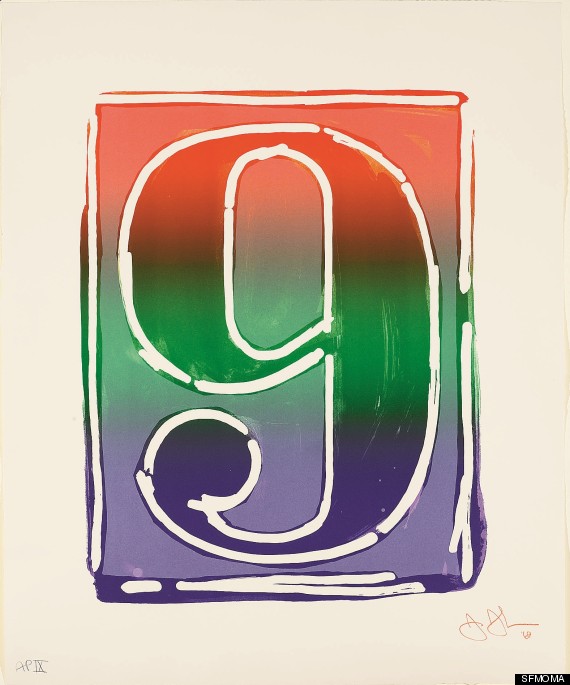 Johns grew up in rural South Carolina with vague dreams of becoming an artist, although he has admitted "I don't think I knew what it meant..." After a brief stint in the military Johns moved to New York where he was quickly enmeshed in a close personal and artistic relationship with artist Robert Rauschenberg. Rauschenberg told the New York times the two "'nourished each other by being such contradictory personalities.''
Together with choreographer Merce Cunningham and musician John Cage, the group steered post-war American art away from the abstract, raw emotional aggression of Abstract Expressionism. "What made 'going to be an artist' into 'being an artist', was, in part, a spiritual change," Johns later expressed to The Guardian. While the art world was previously dominated by artists like Jackson Pollock and Willem de Kooning, exposing their interiors through wild and athletic painted expressions of intuition, Johns and Rauschenberg went with a quieter, more mature approach. Firstly, they did not wish to convey emotion with their work but something else entirely.
Johns was out to explore the ways we see and why, giving slow and attentive time to shapes and symbols so often glossed over in daily transactions. His dedication to the concrete shifts the critical gaze from interior feelings to the exterior world. The alphabet and numbers are removed from their functional purposes and turned into a work of art, allowing the mind and the eye to temporarily separate and rebond in new relationships and positions. Numbers are blown up and tie-dyed, their glowing rainbow anatomy going against the black typewriter fonts we are so used to, trying to make the numbers' images as invisible as possible.
Johns, now 82 years old, is known for being hermetic and enigmatic, as ambiguous as he is wise. He once described his current state of mind to Vanity Fair as "something like very slow panic," which may explain his endless investigation, experimentation and transformation. SFMOMA is exhibiting a retrospective of Johns' works, his first Bay Area show in 35 years. The NorCal local, known for its forward-thinking innovation, is a comfortable fit for Johns, an artist who, it appears, is never quite comfortable.
"Jasper Johns: Seeing with the Mind's Eye" will show at SFMOMA from November 03 until February 03, 2013. For a preview, check out the slideshow below.
What do you think of Johns' investigations into simple images? Let us know your thoughts in the comments.
PHOTO GALLERY
Jasper Johns
BEFORE YOU GO