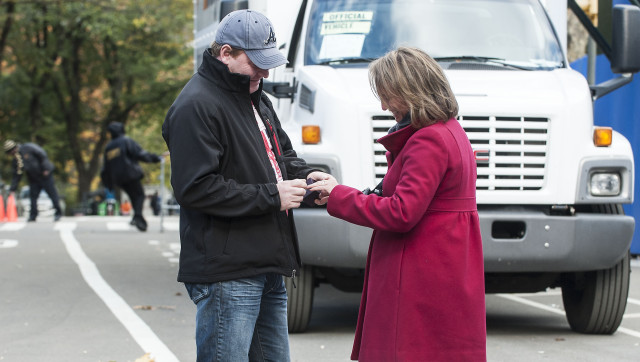 Like all the competitors who trained for the 2012 NYC Marathon, Hannah Vahaba will not be running the race this year. But she also will never forget her moment at the finish line. After traveling in from Atlanta, Vahaba picked up a marriage proposal in Central Park on Saturday without having to traverse the 26.2-mile course.
"This is my fiance," said Vahaba, 31, who had tears running down her face as she stood in Central Park where the race would have ended, just moments after Martin O'Donoghue had proposed.
No official marathon was held this weekend as a result of Hurricane Sandy, but many runners had gathered in Central Park to stand and take pictures. Some even ran around the park anyway.
O'Donoghue said he coordinated his proposal in advance of the weekend, and that he was all set to propose on Sunday.
"I'd talked to the organizers," O'Donoghue said.
The plan was to have a sign for Vahaba that said, 'If you finish in five and a half hours, I'll marry you.'
If she was behind on that pace, O'Donoghue said that he was going to have a magic marker handy to continue crossing the time out and altering it for whenever she did finish.
Once the race was cancelled, O'Donoghue decided to bring Vahaba's friends and family to the 26.2 mile mark anyway.
"I just basically said, 'Look, let's go to the finish line and do it," said O'Donoghue.
And she said yes.
PHOTO GALLERY
New York City Marathon Cancellation Ends Up In Marriage Proposal