WASHINGTON -- The veritable fire hose of data turned on in the final days of the 2012 campaign leaves little doubt that while the national popular vote remains too close to call, President Barack Obama holds slim but meaningful leads over Republican nominee Mitt Romney in the battleground states that will likely decide the presidential election.
With just three days remaining before votes are counted, most of the national tracking polls continue to show a basically deadlocked race, with six new surveys released in the last 24 hours showing roughly the same findings as those from earlier in the week.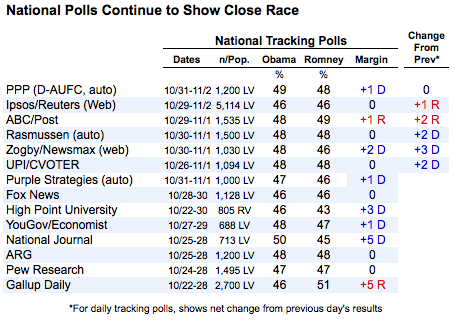 In nominal terms, most polls now show either a tie or a slim Obama edge, but the differences between Obama and Romney in any one poll are too small to be considered statistically significant.
The HuffPost Pollster tracking model, which uses data at the national and state levels to produce estimates of the combined polling snapshots, continues to show a national deadlock. However, for the first time in two weeks, Obama's percentage of the national popular vote was just slightly higher than Romney's, according to the tracking model (47.4 to 47.2 percent, as of this writing).
But even when all of the national polling data is combined, neither Friday's uptick for Obama nor the razor-thin margin separating the candidates nationwide is statistically significant. In plain English -- as of this writing, the polls collectively tell us that the national popular vote is just too close to call.
The snapshot is different, however, within the battleground states that will likely decide the outcome of the election.
In Ohio, for example, five new surveys released on Friday showed results ranging from a tie to an Obama lead of 6 percentage points. The surveys included new polls from NBC/Wall Street Journal/Marist College and CNN/ORC International showing Obama leading by 6 and 3 percentage points, respectively, that used live interviewers to call samples of voters over both landline and mobile phones. The 49 to 49 percent tie result came from a Rasmussen Reports automated survey.
The Pollster tracking model, which considers all of the Ohio poll data, takes into account the consistent "house effect" differences among pollsters in producing its estimates. For example, in comparison to the overall averages, the Marist polls have tended to be more favorable to Obama, while the Rasmussen surveys generally favor Romney. When the model combines all of the data, it gives Obama a lead approaching 3 percentage points in Ohio (48.9 to 45.9 percent), as of this writing.
In all, HuffPost Pollster has entered over 120 new statewide polls into our database over the past week, most in the closely contested battlegrounds. This new data has done little to alter the overall polling snapshot, which continues to favor Obama in contested states like Wisconsin, Nevada, Iowa and Ohio by margins of 2 to 4 percentage points. The electoral votes from these four states, combined with those from other states where Obama leads Romney by wider margins, would give the President 277 electoral votes, just over the 270 need to win.
Four more states -- New Hampshire, Colorado, Virginia and Florida -- continue to show closer margins, with Obama holding a slight advantage in New Hampshire, Colorado and Virginia, while Romney has a slight edge in Florida. If the polling leaders were to carry each state where they currently lead by any margin, Obama would reach 303 electoral votes to 235 for Romney.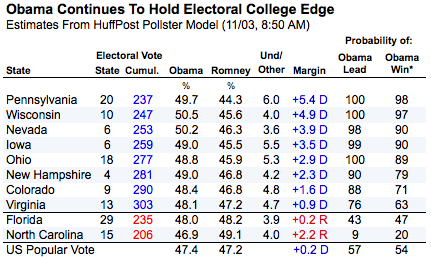 Given the torrent of incoming data, the model now reports nearly complete certainty about Obama's narrow leads in the most crucial tipping-point states of Iowa and Ohio, but that statistical confidence assumes that the final polls are collectively accurate and unbiased. When we factor in the historical potential for polling error, the probability of an Obama win falls to roughly 90 percent in Ohio and Iowa. An Obama win in those states is thus still very likely, but a 1-in-10 possibility still exists, given the typical historical pattern, that the polls could be wrong enough for Romney to win.
The polling snapshot in Florida, a state that Romney must carry to win, is far less clear. A new Miami Herald/El Nuevo Herald poll conducted by Mason-Dixon Polling and Research shows Romney leading by 6 percentage points (51 to 45 percent), while a new NBC/Wall Street Journal/Marist College poll gives Obama a nominal 2-point edge (49 to 47 percent). Altogether, five surveys released in Florida in the last week have given a slight edge to Obama, including two conducted by Democratic pollsters sponsored by groups supporting Obama, while three have favored Romney and one showed an exact tie.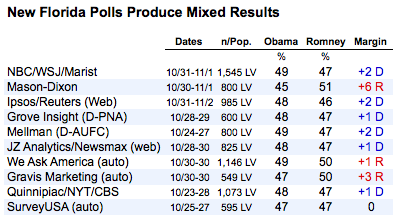 As of this writing, the Pollster tracking model, which again takes all of this data into account while controlling for any consistent statistical bias shown by individual pollsters, shows a virtual tie in Florida.
As the clock ticks down the election day, the final statewide polling snapshot is nearly complete. The final national polls from prominent news organizations, set to be released in the next 48 hours, will provide the final check on any last-minute trends. Stay tuned.
PHOTO GALLERY
Most Iconic Photos Of Obama's First Term
***********************