Stories of strangers coming together have taken over the Internet in the wake of Hurricane Sandy.
Here's another one -- and this one is perhaps one of the sweetest ones we've heard.
According to the Daily Dot, two California women planned to get married this week during their trip to New York City. Kelly and Rosa were able to obtain a marriage license from the clerk's office on Monday. But when they returned to the same office on Tuesday morning for the actual ceremony, the damage done by the hurricane had forced the office to shut down.
The couple was determined not to leave New York unmarried, but their flights back to California -- scheduled for Thursday -- were rapidly approaching.
Luckily, Etsy CEO Chad Dickerson sent out a plea via Twitter on the behalf of his friends.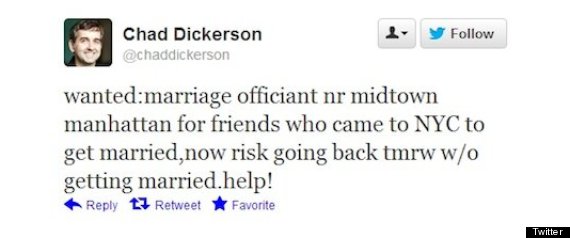 Within minutes, Anoop Ranganath -- a licensed officiate in the city -- had replied and was willing to hold the ceremony.
Ranganath, Foursquare's lead iPhone engineer, told the Daily Dot he wasn't actually following Dickerson on Twitter at the time. Instead, he spotted a retweet from a former coworker and immediately offered his services.
"It's such a great story! How could I not?" he said.
Sandy had forced Foursquare's Soho HQ office to shut down, and Ranganath was working at a midtown location just a few minutes away from Kelly and Rosa's hotel.
The original plan was to hold the wedding at Central Park, but it was closed due to the effects of the hurricane. Instead, the couple got married at Columbus Circle.
Ranganath and the couple asked a lady sitting on a park bench to act as a witness. Coincidentally, the lady was in the city to celebrate the one-year anniversary of her wedding in New York last year.
Seventy five minutes after Dickerson had tweeted for help, he received photos of the newly-married couple.
"The whole thing only took 45 minutes of my time," Ranganath wrote via email. "It was a pleasure and an honor."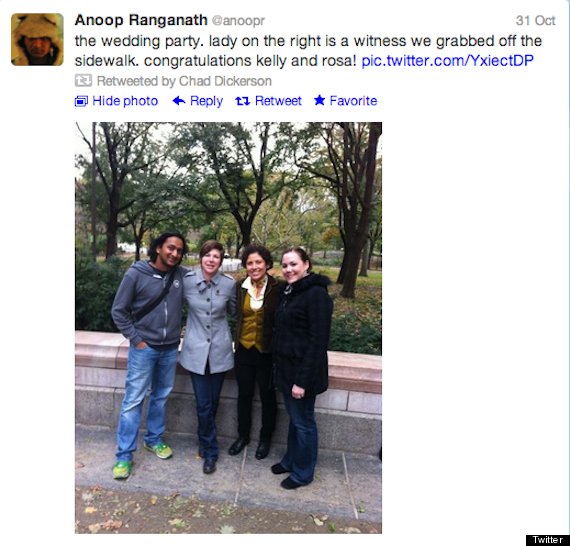 Rosa and Kelly weren't the only couple trying to get married in New York City this week.
The Huffington Post reported that Gabrielle Mecham and Ashley Saverino traveled 3,000 miles from California to get married in New York only to be thwarted by Hurricane Sandy.
The couple also planned to be married in Central Park, but they were unable to get the proper paperwork due to the storm.
"We thought everything would be settled by Monday but it just got worse and worse," Mecham told Bloomberg Businessweek.

BEFORE YOU GO
PHOTO GALLERY
Hurricane Sandy Random Acts of Kindness