 Most roads were cleared of snow and fallen trees in Garrett County as of late Sunday, and most federal and state emergency officials who'd responded there following superstorm Sandy's damaging blizzard had departed.
Still, thousands remained without power.
"The only thing that's still lacking, as far as I understand it, is power restoration, and that's a slow, tedious process because of the damage that's been done and because of the vastness of Garrett County," said Jim Raley, chairman of the county's Board of Commissioners. "You've got miles and miles of lines that go up over mountains and through some pretty treacherous areas."
The county still had nearly 4,700 customers without power Sunday night, according to utility Potomac Edison. That is more than 20 percent of the company's customer base in the county.
Many crews remain in the county fixing lines, but the job isn't easy, Raley said.
"There's pockets where it may involve a day's worth of work by an entire crew to get 15 homes back online," he said.
Raley said the county government resumed the lead in the county's response to the storm at 6 p.m. Sunday, after having deferred to Federal Emergency Management Agency and Maryland Emergency Management Agency officials in the days prior.
"We feel pretty good that everyone is safe and accounted for and that we've weathered the storm quite well," Raley said.
County officials will publicly announce their plans for a county clean-up -- debris remains piled along roads and on embankments of snow -- on Thursday, Raley said.
Raley said many of the emergency responders who left Garrett County headed directly to New Jersey or New York, where Sandy caused widespread damage.
krector@baltsun.com
twitter.com/rectorsun- ___
(c)2012 The Baltimore Sun
Visit The Baltimore Sun at www.baltimoresun.com
Distributed by MCT Information Services
PHOTO GALLERY
Superstorm Sandy Blankets West Virginia
BEFORE YOU GO
11/04/2012 12:26 AM EDT
PHOTO: A Marathon Wedding Proposal, Minus The Marathon
HuffPost's Katie Bindley reports:
Like all the competitors who trained for the 2012 NYC Marathon, Hannah Vahaba will not be running the race this year. But she also will never forget her moment at the finish line. After traveling in from Atlanta, Vahaba picked up a marriage proposal in Central Park on Saturday without having to traverse the 26.2-mile course.
"This is my fiance," said Vahaba, 31, who had tears running down her face as she stood in Central Park where the race would have ended, just moments after Martin O'Donoghue had proposed.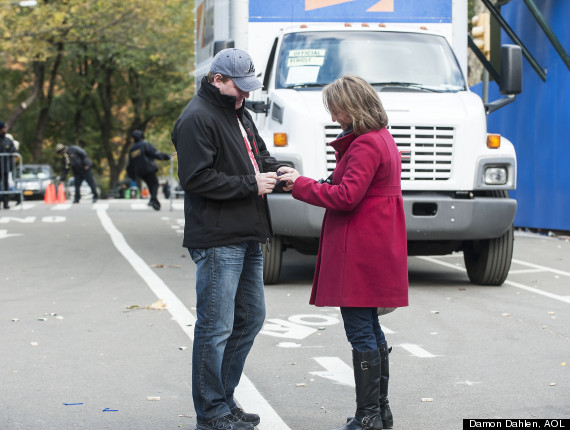 Photo by Damon Scheleur