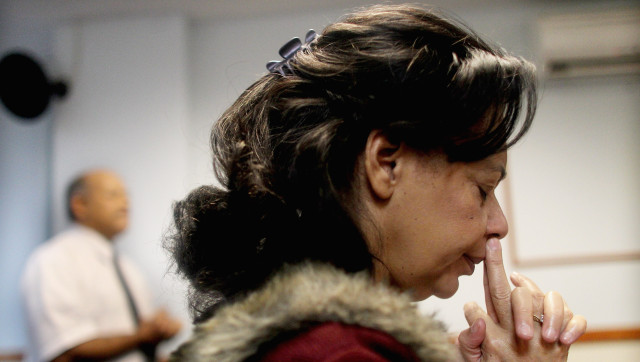 NEW YORK -- In the days after Hurricane Sandy, Buddhists and meditation practitioners are joining a host of faith-based and spiritual caregivers responding to the ongoing crisis. Yet in addition to the fundraising, helping hands and prayers offered by many faith-based groups, Buddhists are making use of meditation and "mindfulness," a spiritual practice with origins in Buddhism that's focused on centering and grounding people as a method of reducing stress, while acknowledging pain and difficulties.
Koshin Paley Ellison, a co-founder of the New York Zen Center for Contemplative Care, has deployed his best men and women to help rebuild after the storm's widespread destruction. He's dispatched a team of Buddhist chaplains to hospitals that are just coming back online and to isolated apartments where the elderly and sick continue to struggle. With a total of 32 volunteers and staff spread throughout Manhattan, Ellison's team offers a unique breed of disaster responder.
"Our chaplains provide contemplative care. It's the kind of care given by someone who has their own meditation practice and uses that to bring to the patient an openness and reliability that the meditation practice is supposed to do," said Ellison. "We've been doing meditations in medical center hallways," he said, at places such as Beth Israel and New York Presbyterian hospitals in New York. "They're open and can be useful to anybody. Oftentimes, it's not Buddhists [whom] we are serving."
Members of Buddhist and meditation communities say they see room for their practices to help those in need throughout New York and New Jersey, where public transit woes, long lines for scarce gasoline, powerless homes and a growing population of hurricane refugees have resulted in a tense climate of stress.
One organization, the Reciprocity Foundation, is running a series of "post-hurricane counseling and healing sessions" for those left homeless after the storm, as well as those who were homeless before Sandy hit. On Facebook, the nonprofit is advertising "free food, yoga, acupuncture and loving counseling" in Manhattan. In other parts of the region, Buddhist centers and yoga centers hosted weekend fundraisers for hurricane relief. At Yoga Union in Manhattan, proceeds from a Sunday class netted $600 for hurricane victims.
With the aid of the advertising via websites and social media, the Buddhism-related efforts have spread far beyond disaster areas. One nonprofit in northern England, the Rainbow Light Foundation, has put out a call to its membership and to meditators around the world to focus 15 minutes of their time on "a positive flow of energy" toward those affected by the hurricane. The effort has origins in the Buddhist practice of metta, in which meditators focus their energy of "loving-kindness" for specific people, groups, areas or causes.
"People don't have to be physically together. We can all tune in for flood victims even though we live in different countries," said Louise Oliver, a trustee and meditation coordinator for the foundation. "You should be aware of the negative, but it's all about focus and attention and energy."
That kind of attention is appreciated by Ken Buley-Neumar, a Unitarian Universalist and yoga practitioner who lives in Amityville, N.Y., on the south shore of Long Island. He had "very little damage" to his own home, he said, but has found himself anxious each day about his sister, mother and grandmother, all of whom suffered substantial damage from the storm.
"The biggest stress has been the loss of electric [power] to everyone in our families," said Buley-Neumar. "My mom and grandmother still have no electric or heat."
While Buley-Neumar said he's had little time for yoga, he has managed to meditate. "My meditations have been focused most recently on the pain and loss of everyone surrounding us," he said. "I'd like to think that my meditation has helped me understand and have compassion for all the loss. And also to have patience with all that is going on in and around our home."
Editor's note:This article has been updated to reflect more accurately about the makeup of the New York Zen Center for Contemplative Care's chaplains and where they work.