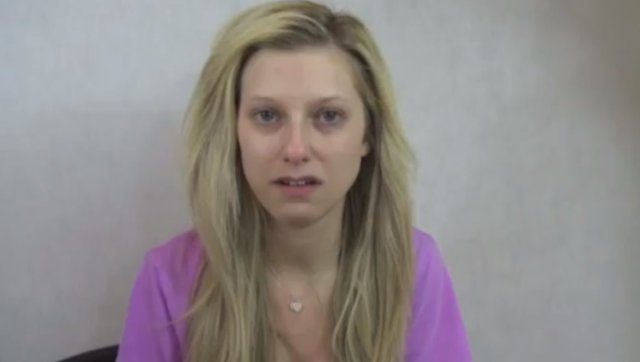 When subscribers check to see Brie Lybrand's latest YouTube video, they're expecting to watch one of her typical, upbeat beauty and shopping tutorials. So when "The New Orleans Beauty Guru" posted her latest video entitled "A Message To My Rapist," the world took notice.
Lyrbrand, a former pageant star, appears shaken and makeup-free as she makes her unexpected announcement. "I just got an email from YouTube saying that the man who raped me for most of my life subscribed to me," she says with disgust. "The man that took my virginity, robbed me of an innocence has subscribed to me on YouTube and is watching my videos."
The aspiring actress and Tulane graduate looks directly into the camera as she reveals that it was her father who abused her. "My father, Steven Bressler, molested, tortured and raped me from the time I was four until I was 13 years old," she says.
As the video progresses, Lybrand describes how she grew up to become her high school's cheerleading captain, go to college and become both and actor and a teacher. One of the most shocking visuals of the clip comes when she displays the three guns she's purchased for protection. "I don't have to be afraid anymore. Let me show you my weapon collection, dad," she says. "I carry guns everywhere I go in case you decide to show up... You're never going to touch me again."
The 12-minute long video caught the media's attention after gaining popularity on Reddit. Some commenters have questioned the validity of her claims, pointing to her acting ambitions, but most of the commentary is sympathetic. Lybrand also chose not to promote this particular video on her Facebook or Twitter accounts.
Lybrand closes the video with an apology to her 8,449 subscribers: "I'm sorry this is a differnet type of video than I usually do. But I needed to say it; I needed to say it to your face."

Watch Brie Lybrand's video below. (WARNING: very graphic content)
PHOTO GALLERY
10 Major Crimes That Shocked America (SLIDESHOW)
Want more? Be sure to check out HuffPost Style on Twitter, Facebook, Tumblr, Pinterest and Instagram at @HuffPostStyle.