If you're like us, you may have noticed something strange on Twitter today. While wading through tweets about the presidential election, we asked ourselves: Why is "Canada" trending during an American election?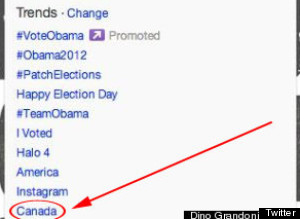 Every individual Twitterer's list of "Trending Topics" appears to left of the page on Twitter.com and is based on a user's location and the accounts he or she follows. So "Canada" may not be showing up for you, but it is for us and a few others we talked to.
Why the commotion over Canada on Twitter? A 4.2 earthquake struck Quebec early Tuesday, and, given that news about earthquakes travels quickly on Twitter, this is no doubt part of what sent "Canada" skyrocketing up the Trending Topics list. (No injuries have been reported yet, according to the Toronto Star.)

But there's another reason: Everyone thought of the same joke referencing America's neighbor to the north on this Election Tuesday, and a lot of Americans are promising they'll be moving to Canada if their candidate doesn't win.
if Obama does not win im going too Canada with tears in,y eyes i swear Canada better have some tacos

— Food Chainz (@AnnAllA_) November 6, 2012
" I'm going to Canada. ; I'm going to Europe. ; I'm going to Bikini Bottom. " You ain't going no where even if Romney gets elected.

— Nipps ^__^ (@Trillaaaa___) November 6, 2012
I can see the headlines now "thousands flee to Mexico and Canada after results of the election announce Mitt Romney as president."

— ✾ (@rockmemaIik) November 6, 2012
There are a lot of Romney supporters threatening to move to Canada today. Man are they going to be shocked when they get here! #idiots

— Abigail Road (@abigailroad) November 6, 2012
Basically, ladies, if you're uneasy about the election results and want to move to Canada one of you could totally marry me for citizenship.

— Adam Wilson (@theleanover) November 6, 2012
Moving to Canada if your candidate loses? Good luck with that.news.discovery.com/human/moving-t…

— Bob Patrick (@K92BobPatrick) November 6, 2012
If you move to Canada because your candidate didn't win the election, you deserve to find out how gross poutine is.

— Indecision (@indecision) November 6, 2012
BEFORE YOU GO
PHOTO GALLERY
What Facebook Teaches Us About Elections