Education was largely absent from the election just months before, but polling results Monday reveal that education has emerged as a top issue among early voters in battleground states, according to a Tuesday memo from the National Education Association.
Education is a "somewhat important" or "very important" issue to 80 percent of voters, and a majority said they support increased funding for public education, even if it means raising taxes. Among governors, education is a top priority, just second to the economy and jobs.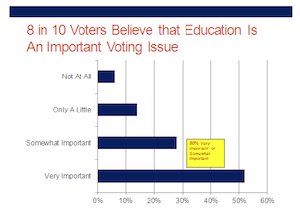 The results are from an Interactive Voice Response poll by the NEA, the nation's largest teachers union, conducted in battleground states on Nov. 3 and Nov. 4.
"Local elected leaders considering cuts to education programs and federal lawmakers who will shape national education policy would be well advised to understand that voters believe investing in education and innovation is the best way to help grow our economy," the memo reads.
As election day neared, education has emerged as an unexpected star in the campaign for president. Its issues wiggled their way into even the foreign policy debate as President Barack Obama and Republican candidate Mitt Romney talked teachers and sparred over hiring.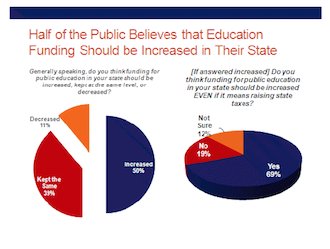 As Obama's campaign has highlighted past policies like Race to the Top -- which encouraged states to design individual education reform models to compete for federal grants -- Romney's education stance has centered around school choice through expanding charter schools and a voucher system that allows low-income children and students with special needs to opt into private schools by transferring public dollars.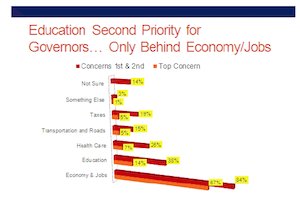 In a last-minute bid for the female and Latino vote, Romney this week added a pitch for education, promising to be the "voice of the children and their parents" and offering those in failing schools "the choice they need to pick the school where their children can succeed."
Still, the NEA's Tuesday memo reiterated its support for Obama, a backing the union has emphasized even at its national convention despite notable union donations to Republican candidates.
"Preliminary facts and statistics confirm that we've organized and solidified our base and we've played a pivotal role in moving education up on the national agenda," the memo reads. "As important as it is to note the success of our efforts to influence the 2012 election, we're even more encouraged by these combined results that bode exceptionally well for our influence in upcoming election cycles."
An analysis by the Center for American Progress Action Fund found that Obama has made "unprecedented investments in education" through programs that have turned around failing schools and tackled student poverty. The group says Romney's plan emphasizing vouchers would weaken accountability systems that shield underprivileged students, adding that the candidate has been inconsistent on whether he would cut federal education funding.
"The stakes are high for students, and the contrast is clear," Cynthia Brown, CAP Action's vice president for education policy said in a statement Tuesday. "If Obama wins, he should focus his second term on making high-quality preschool available to all children, on improving teacher preparation through stronger accountability, on using competitive programs to drive reform in states and districts, and on learning from state waivers from No Child Left Behind to inform an eventual reauthorization.
"If Gov. Romney wins, he should get serious on education," Brown continued. "He rarely talks about it on the campaign trail, and his education plan is missing a lot of detail. We know very little about what he would actually do as president when it comes to education."
BEFORE YOU GO
PHOTO GALLERY
U.S. Citizens Head To The Polls To Vote In Presidential Election