Updated story
There are plenty of laws on the books guiding voters on what they can and can't do at an Election Day polling place. This year, one of them is being frequently flouted thanks to the ubiquity of smart phones and social media.
Instagram wasn't around for the 2008 election, so this year marks a first for the photo-sharing social network, which has been flooded today with proud voters showing off their ballots--both empty and complete--along with voting receipts and stickers.
For Chicagoans capturing their vote for digital prosperity, there's no reason to sweat the practice.
The Citizen Media Law Project has indicated taking photos is a no-no in Illinois if photos or videos are of a marked ballot. HuffPost Chicago reached out to the Chicago Board Of Elections and the Illinois Attorney General for clarification.
Natalie Bauer, with the state Attorney General's office, told HuffPost Chicago, "We don't think [Section 29-9 of the Illinois Election Code] applies to people taking photos of their own ballots and posting them."
There are no references to the use of film cameras or video cameras at polling places in the Illinois Compiled Statues.
Photos and videos at the polls will cause problems if they're used to interfere with fellow voters' process or intimidate a voter, or if the camera is used for "unlawful observation of voting."
In short, the same rules from grade school still apply: keep your eyes (digital or otherwise) on your own paper.
Plenty of civic duty-serving Instagrammers have simply skipped snapping a shot of their ballot altogether, instead opting to proudly display their voter receipt.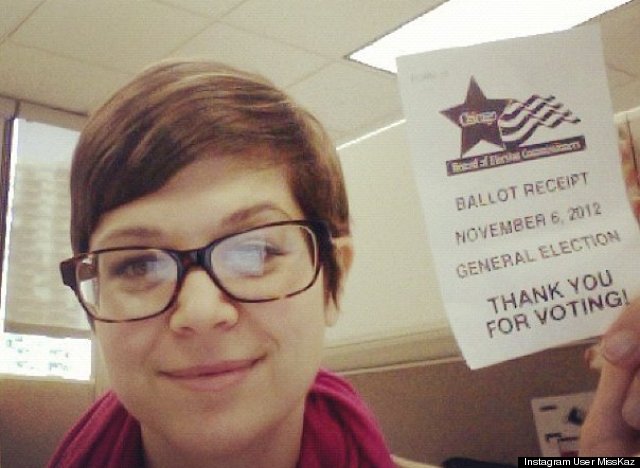 Illinois is relatively lax on its photos-at-the-polls laws compared to states like Wisconsin and North Carolina.
In the Tar Heel State, Section 163-166.3(b) of the North Carolina General Statutes says that no person may "photograph, videotape, or otherwise record the image of any voter within the voting enclosure, except with the permission of both the voter and the chief judge of the precinct."
Wisconsin, meanwhile, is even tougher of photo-happy voters: posting posting a completed ballot photo to social media is a felony, constituting voter fraud in the Badger State.
(Click here to read a state-by-state background of laws surrounding documenting your vote.)
PHOTO GALLERY
U.S. Citizens Head To The Polls To Vote In Presidential Election
BEFORE YOU GO