Voters in Texas were given quite a shock Friday morning when the most controversial furry bird of the election lined up behind them, yellow feathers in tow.
According to Buzzfeed, John Kelso, a humor columnist at the Austin American Statesman, decided to vote early dressed as Big Bird.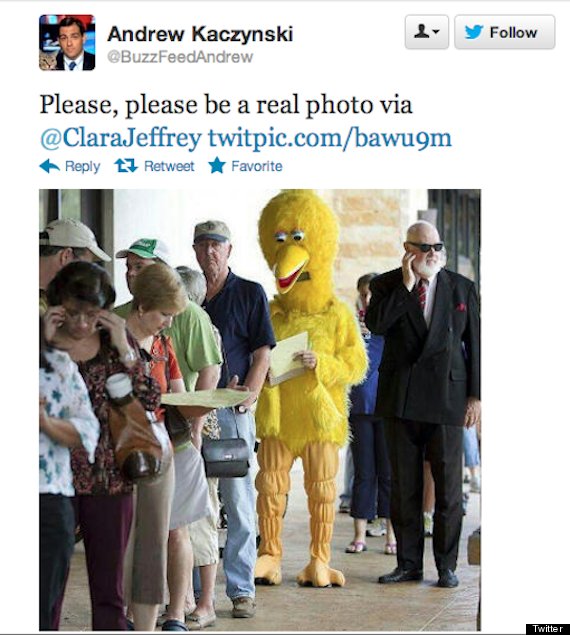 "When Romney said he would cut off funding to PBS, Big Bird's boss, I decided to go to bat for the yellow guy," Kelso wrote in the Statesman.
Kelso even hired his own bodyguard, Edd O'Donnell, to accompany him to the polling station.
"Don't worry, sir," O'Donnell told somebody in line at the voting station. "I'm here to take a bullet for the bird."
And when people would walk close to Kelso, O'Donnell told them, "Step away from the bird."
Kelso and O'Donnell got in line around 9 a.m. in southwest Austin and had to wait an hour to cast a vote.
Thankfully, Kelso had instructed his polling place ahead of time that Big Bird was coming, so the voting process went off without a hitch.
We think it's safe to assume he's voting Obama.
Read the full transcript of Kelso's adventure as Big Bird at the Statesman.
BEFORE YOU GO
PHOTO GALLERY
The People Who Give Obama Hope