Happy Election Day!
In honor of today's conclusion of this year's historic presidential race, Katy Perry shared a picture of her posing with President Obama, whom she has backed throughout his reelection campaign. But to make this snapshot extra special, Perry's 91-year-old grandma, Ann Hudson, hopped in for the photo op!
"May I exclusively present what might be the cutest photo ever taken: Me, Gma & POTUS!" she tweeted last night, Nov. 5, adding, "Happy voting tomorrow!"
Like her democratic granddaughter, Hudson is a big supporter of Obama, who is facing Mitt Romney in the polls today. In the personal picture, Hudson holds hands with Perry and Obama as they smile for the camera at one of his many political rallies.
On Nov. 3, Perry performed at the Delta Center in Milwaukee, Wis., following the president's rally, wearing a tight red, white and blue dress that read Obama's slogan, "Forward."
"Who's ready to vote tomorrow?" Perry tweeted. "I've got my outfit laid out!"
We're sure it's very patriotic.
See the photo of Perry, her grandma and Obama below: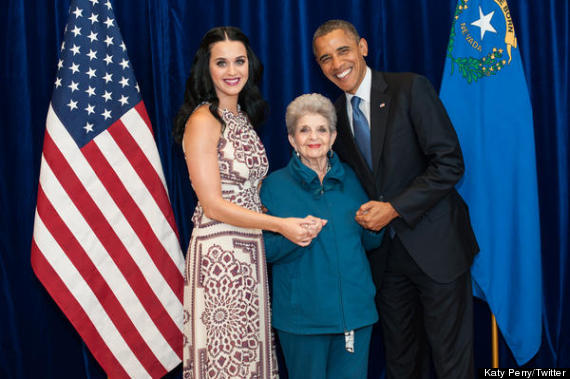 BEFORE YOU GO
PHOTO GALLERY
Patriotic Celebrities