Miami-Dade County may have added 809 polling places to its 20 highly congested early voting locations, but it didn't solve the hours-long lines that made headlines over the weekend.
As polls began closing Tuesday night, several were facing the prospect of serving lines of voters into what could be the wee hours of Wednesday. Precincts in Hialeah and Kendall ballooned with waits of 5 hours or more, and in Brickell polls at the UTD Towers were bogged down with nearly 7-hour lines -- with hundreds of voters still waiting to cast votes hours after cutoff.
Get live updates from Election Day in Miami-Dade below:
PHOTO GALLERY
Miami Votes!
11/07/2012 8:51 AM EST
One more thing
Technically this liveblog ended yesterday, but we think it deserves one last item: this tweet, from Florida Secretary of State spokesman Chris Cate, which should indicate just how heroic Miamians were last night in their determination to be counted. Incredible challenge, incredible response.
It's 1:42 in the morning and I just heard there are still people voting in Miami-Dade County. Kudos to their commitment to voting!

— Chris Cate (@ChrisCate) November 7, 2012
11/06/2012 11:27 PM EST
Florida can breathe a sigh of relief
Ohio toppled America for Barack Obama -- even as Miami-Dade residents were still voting. Thanks for following our liveblog, Miami! We'll have more from local races Wednesday morning.
11/06/2012 11:07 PM EST
Hold on to your seats.
@ doug_hanks :

Right now official Fla. margin of about 36,000 votes would be enough for an automatic recount (half a percentage point margin), lawyers say
11/06/2012 11:03 PM EST
Not tonight, dear.
Miami-Dade Supervisor of Elections Penelope Townsley has said there will not be a final tally for the county until Wednesday, with approximately 300 people still in line to vote at 11 p.m. Tuesday night.
11/06/2012 10:25 PM EST
Miami election protection workers report hijinks
Katherine Culliton-González, senior attorney and director of voter protection for the Advancement Project, a civil rights group, reported to HuffPost problems in two precincts. She said that she had to return to one North Miami precinct three times to assist poll workers.
In one instance, elderly residents and residents with literacy issues had sought out help from Advancement Project staff. Poll watchers intervened and tried to prevent them from assisting these voters, Culliton-González said.
The same precinct also did not have a bilingual poll worker. An election protection worker was asked to help translate. That worker was promptly kicked out of the precinct. After much back and forth, she was allowed back in," she said. But then was evicted a second time. The polling staff eventually allowed her back in.
The protection worker, Betsy Aguirre, said that she had tried to help a Spanish-speaking voter and another who had trouble reading the ballot before getting evicted. She said that in the morning, the precinct claimed they did not have any sample ballots that could have assisted voters. Hours later, the samples were discovered.
In another precinct, Culliton-González said a GOP lawyer managed to get inside the voting area. "The voters and the poll workers were all people of color," she explained. "She bullied her way in." The lawyer was eventually kicked out.
All the voters stuck it out and voted, she believes. "Luckily the voters were not intimidated," she said. "We didn't have anyone leave. Election protections were there."
--Jason Cherkis
11/06/2012 10:18 PM EST
Kudos, baby in this stroller. Voters line up in the dark to beat the 7:00 p.m. deadline to cast their ballots at a polling station, Tuesday, Nov. 6, 2012 in Miami. Florida voters queued up before dawn Tuesday to cast their ballots as long lines began forming at some precincts across the state. (AP Photo/Wilfredo Lee)
11/06/2012 9:46 PM EST
Amendment 6 voted down
A ballot measure in Florida that would have erased women's right to reproductive "privacy" from the state constitution was defeated on Tuesday by a margin of 56 to 44 percent, according to CNN. The measure, put on the ballot by Republican state legislators, would have empowered the state to enforce abortion restrictions, such as mandatory ultrasound laws, and would have enabled state lawmakers to ban abortion altogether if Roe v. Wade is overturned.
"We commend the voters of Florida for joining what has become a national movement to wholly reject these attacks on reproductive freedom and to demand stronger protections for reproductive rights," Nancy Northup, president and CEO at the Center for Reproductive Rights, said in a statement. "By preserving women's reproductive rights under the Florida state constitution, women and families will continue to have all options available to them so they can make the best health care decisions for their circumstances."
11/06/2012 8:58 PM EST
Meanwhile on ABC...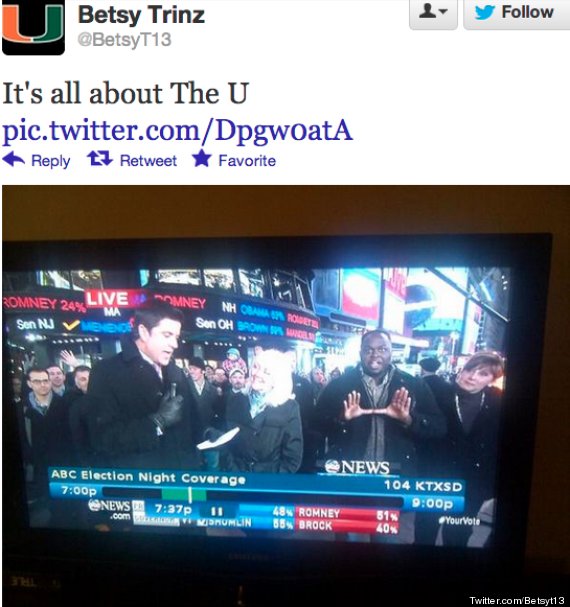 11/06/2012 8:49 PM EST
Not without my coffee!
Miamians may be forced to wait in hours-long lines all the time, but they won't ever go without Cuban coffee. Service continued late Tuesday evening as 200 people still in line in Sweetwater were served a pizza dinner with cafecitos.