It should have come as a welcome announcement.
At 7:35 a.m. Tuesday, the line to get on a Manhattan-bound train from Newark Penn Station was so long that commuters were taking pictures of it to show their co-workers. Then came word came over the speakers that an additional train would be headed to New York from track three.
"For your safety, for your safety, please take your time," the announcer said, as a swarm of people fled from the line they were in to muscle through the crowd towards the stairs that led to track three. But in less than a minute, it was too late.
"Don't bother going up there," a New Jersey Transit cop told the mob of people trying to make their way to the track. "The train's full."
"What the hell is going on?" a woman yelled.
"It is insanity," another woman shouted back.
So goes the post-Hurricane Sandy commute for the thousands of people who traveled by train between New York and New Jersey with relative ease, prior to the superstorm. Instead, limited train service -- and in many cases flat-out line closures -- has meant commuters are facing two-, three- and four-hour trips that typically take a fraction of that time.
New Jersey Gov. Chris Christie said in a media briefing on Tuesday that commuters could expect an easier ride to work than on Monday, when just 13 of the 63 trains that typically head into Manhattan on a given morning were operational. Those trains usually take 46,000 people into the city, but instead, they were slated to accommodate about 15,000.
Among the factors contributing to the overcrowding and long delays has been the downed PATH train system, which usually accommodates about 260,000 riders. Though the PATH resumed partial service on Tuesday, authorities remain uncertain as to when all the systems will resume normal service, which leaves commuters with few options other than a lot of watching, waiting and having their patience tested.
New Jersey Transit did not return a request for comment. New Jersey Transit spokesman John Durso Jr. told the Associated Press that Monday was "an exciting and challenging day." As told by New Jersey commuters, the days following Sandy have been at least half that.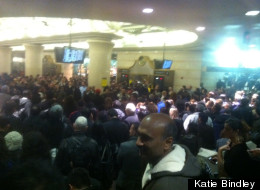 At New York's Penn Station Monday night, commuters faced overcrowding and hours of delays on New Jersey Transit, which is running in a limited capacity following Hurricane Sandy.
"If I can get home in under three and a half hours, I'll be happy," said Catherine Fallon, who was trying to get to Parsippany, N.J., from New York's Penn Station on Monday evening. Fallon spent three hours on Monday morning commuting to Cooper Union in the East Village, where she works as an admissions counselor.
The transit authorities have been providing additional resources to commuters in the form of emergency buses, but they've been met with mixed results. Some riders said they made it to work on the bus with relative ease, while others complained of not being able to get on the bus at all, due to crowds.
Fallon, for her part, chose the train over the emergency buses because she felt that transit authority hadn't provided riders with enough details on the capacity of the buses to accommodate people, or enough specifics about their schedules.
"How do I know when I get there, I'm going to be able to get on a bus and get where I need to go and get home? Am I going to be standing outside in the cold waiting for an hour for a bus?" she said.
The alternative Fallon chose was to drive to her parent's house in Hawthorne, N.J., a half-hour away, followed by catching a train to Secaucus, N.J. The wait for that train was 45 minutes, and once she got on it, there were further delays.
"We waited for about 20 minutes to get through the tunnel. The conductor actually, he's like, 'I apologize we only have one tunnel open as the other one is closed with fishes,'" she said.
Inger Slade, who lives in Montclair, N.J., had settled on taking the bus to work on Monday morning in anticipation of train delays. But that decision led to a four-hour commute.
"I carpooled with neighbors because we were all waiting for the same bus," Slade said. "It showed up but it was so full, there wasn't even standing room."
Slade said she watched multiple busses go by and eventually drove her neighbors to the train station. Later that day, she left work at 5:30 p.m. and estimated she wouldn't get home until 9 p.m., if she was lucky.
"It's an odd day in Jersey and my license plate is odd," Slade said, making reference to the gas rationing system the state recently implemented. "After we're done and I get to Newark, I get in my car and go find gas somewhere."

Between parking and gas, Slade estimated that the altered transit schedule could cost her an additional $200 to $300.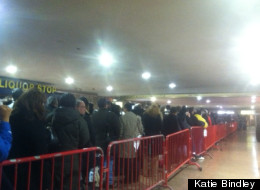 Tuesday morning, the line to board Manhattan-bound trains extended the length of Newark's Penn Station following the damage to the New Jersey Transit system caused by Hurricane Sandy.
On top of the delays and the potential extra costs some commuters are incurring, others said they've dealt with outright physical aggression on the part of angry riders determined to make their way onto crowded trains.
"They didn't believe us that there wasn't room in the aisles, so they started pushing all of us to make room, which, there was no room," said Julie Holland, who lives in Berkeley Heights, N.J. "One guy forced himself on to the train. People were yelling."
After dealing with a second day of unruly crowds at Newark Penn Station on Tuesday morning, Yvonne Peterson said she had decided that she would only be getting to work as quickly as she could do so safely.
"I didn't want to get trampled, people were pushing and shoving," she said.
When Peterson finally got on her train to the city, the conductor told her there was room in the back, so she proceeded to the final cars and found something shocking: the last three were empty.
"I was riding in an empty car," Peterson said.
She later found a conductor so that he could let more passengers know of the room in the back, and then she pulled out her phone to video tape it because she didn't think her co-workers would believe it.
Despite the continued delays that commuters will likely face throughout the week, many said they believed that New Jersey Transit was doing the best it could to accommodate people -- they just wished that the communication systems were better between the officers manning the stations and the conductors. Riders are also, for the most part, keeping things in perspective.
"It's tough to complain," said Jennifer Kurowsky, of Woodbridge, N.J., who was anticipating a two-hour ride home from work Monday night, when the trip usually takes 45 minutes. "People around me have lost a lot more."
Regina Romero, who lives in South Plainfield, N.J., and works in Brooklyn, N.Y., as a preschool program director, said much the same thing: Her grandfather lost his home in the hard-it New York neighborhood of the Rockaways, and she didn't feel like she should be complaining about a three-hour commute, or the fact that taking New Jersey transit instead of the PATH this month cost her an additional $300 this month. On top of that, her commute to work last Friday was four and a half hours -- so she was actually making progress this week.
Back on the trains headed into New York from Newark Tuesday morning, the crowds seemed a bit more manageable than people had reported on Monday. And one man at least seemed to have found a strategy for dealing with the commute: he read from a spiritual text and focused on a section titled "How Do I Cultivate Godly Patience."
*************************
The Huffington Post is eager for insights from our community, especially people with experience in power, infrastructure and engineering, on the adequacy of emergency preparation in advance of Hurricane Sandy, and the degree to which past disasters have informed adequate planning and construction. Please send a note to sandytips@huffingtonpost.com with insights and suggestions for the important questions that need to be asked of relevant private sector and government officials, and point us toward stories that need to be pursued.