Mitt Romney's Election 2012 chances hinge on several swing states.
As of Monday, battleground poll results projected a path for President Barack Obama to reach reelection. Back in 2008, Republican presidential candidate John McCain suffered from losing nine states that George W. Bush carried during the 2004 Election: Colorado, Florida, Indiana, Iowa, Nevada, New Mexico, North Carolina, Ohio and Virginia.
In the final days of 2012 campaigning, HuffPost Pollster showed that some of those states could return to red ground. Colorado, Florida, North Carolina and Virginia were tossup territories, while Iowa, Nevada and Ohio leaned Obama.
Indiana emerged as a strong Romney ground, with data giving an 11-point edge to the GOP challenger. New Hampshire, which was secured by both Obama in 2008 and John Kerry in 2004, stood as a tossup. Of the 22 states that 2008 GOP presidential candidate John McCain carried, all of those areas were still strong Romney.
(Click here for HuffPost's full interactive map and the latest polls.)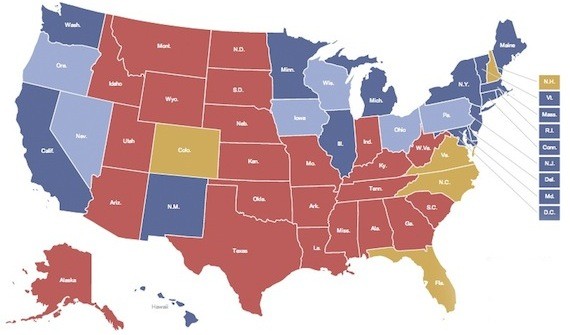 Tell us who you think will emerge as the winner once all the votes are in, and for up-to-the-minute news on Election Day, check out our live blog below.
PHOTO GALLERY
Romney-Ryan 2012 Soundtrack