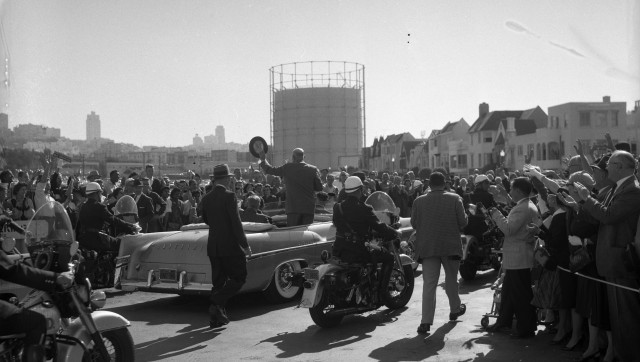 Happy Election Day!
We hope you joined the hundreds of thousands of San Franciscans who cast their votes around town to help shape the future of our fair city, state and country. (And we hope you found a little time to celebrate, too.)
To help get us into the spirit, our friends at the San Francisco Public Library's History Center have culled through more than a century of archives to put together a never-before-seen collection of images showing election seasons of SF's past. They've unearthed fascinating photographs of presidents like Franklin D. Roosevelt and Dwight Eisenhower making campaign rounds through the Fog City, early activists within the League of Women Voters and San Franciscans throughout the decades casting their ballots.
A lot has changed in the past hundred years, but one thing stays the same -- we have, and always will be, a politically-engaged city. If only we could get voters this excited about the supervisor races!
Take a look at the ghosts of election seasons' past below:
PHOTO GALLERY
SF Elections History
This collection is part of a new partnership with the SF Public Library, "Tales From The City," in which we bring to light hidden gems from San Francisco's past.
The San Francisco Historical Photograph Collection is part of the San Francisco History Center, located in the Main Library in the Civic Center. The San Francisco History Center is the official archives for the City & County of San Francisco. There are approximately two million photographs in the San Francisco Historical Photo Collection, with 40,000 images digitized and searchable in the online database. These selections of past San Francisco elections and presidential visits are not in the library's online database--this is the first public "screening." Please visit the San Francisco History Center in person to view original photographic prints and negatives.