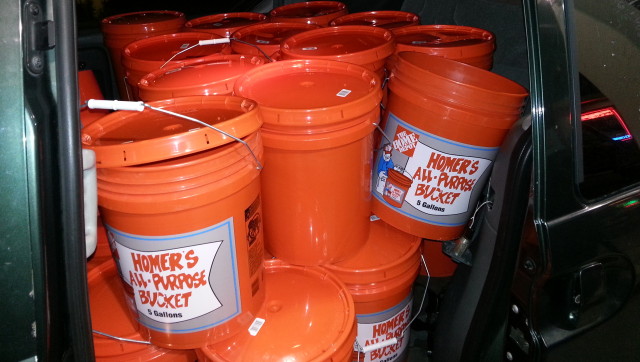 One man's quest to help his neighbors on Saturday ended in arrest.
Yunus Latif, 47, of New York City, tried to get gasoline for his neighbors in Richmond Hill, Queens, who had no power or gasoline as a result of Hurricane Sandy, NBC Connecticut reports. After collecting money from them, he allegedly bought filled 30 buckets with gasoline at a Valero gas station more than an hour away in Orange, Conn., on Saturday night.
The police arrested Latif at the gas station for violating state law by pumping gasoline into Home Depot buckets, which are not approved by the Transportation Department, and for stacking up and not securing the buckets, the Connecticut Post and Norwich Bulletin report. The police also arrested the gas station's owner, Muniruzzaman Gomosta, 41, for allegedly being complicit, though he said he was too busy to notice what was happening, according to the Connecticut Post.
There has been a gas shortage ever since Hurricane Sandy struck the New York City metropolitan area last week, knocking out power at gas stations and gasoline facilities and shutting down ports. Since then, New York Harbor has partially reopened, and some gas stations and gasoline facilities have reopened too. But the gas shortage still has not abated, in spite of promises from public officials.
The gas shortage has prevented some people from getting necessary living supplies. Tim of Long Island, N.Y., who did not want to share his last name for privacy reasons, told The Huffington Post via email he has been "cooped up in my house with no gas to drive to the store and buy food." He tried in vain to find gasoline, but he ended up having to park his car far away from his house to avoid getting stranded and has been unable to retrieve it.
In the wake of the gas shortage, some people have gone to desperate measures. Many have had to drive to four or five gas stations before finally finding one with gasoline and waiting hours for it, as The Huffington Post reported this past weekend. Some people even are offering sex in exchange for gasoline on Craigslist, according to Jezebel.
People also are taking advantage of the gas shortage to make money. A gasoline black market is emerging on Craigslist, where hoarders are offering gasoline for as much as $30 a gallon.

BEFORE YOU GO
PHOTO GALLERY
Hurricane Sandy