We're counting down the days to Bjork's new music video for "Mutual Core," the fractious anthem from her science-savvy album, Biophilia. MOCA commissioned LA filmmaker Andrew Thomas Huang to direct the video, which features a stunning blue-haired Bjork emerging from a swirling bed of quicksand. Needless to say, we want more.
Jeffrey Deitch, the MOCA director who is clearly not obsessed with celebrities and pop culture, initially approached Bjork for the video collaboration. Although we're still concerned about the implosion of MOCA, we are excited that Deitch decided to make a super cool music video with one of our favorite musicians. Bjork's childish giggles and freaky shrieks made her a worldwide musical icon, but her ability to constantly evolve has given her staying power.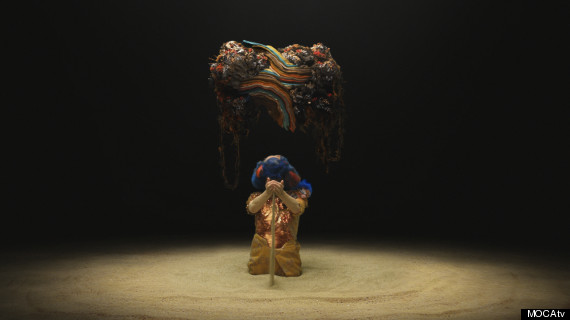 Bjork explained the imaginative visuals for "Mutual Core" in a recent interview with Paper, saying, "Some songs perhaps need a dozen listens to sink in. With a visual, it will sometimes take only one or two takes -- as long as there is synchronicity between the two."
The exclusive worldwide preview of Mutual Core will take place at The Museum of Contemporary Art, Los Angeles (MOCA) on Monday, November 12 from 11am to 5pm. Watch the video online at MOCAtv starting November 13.
See a video slideshow of Icelandic icons below, and let us know your thoughts in the comments section.
PHOTO GALLERY
Icelandic Culture
BEFORE YOU GO