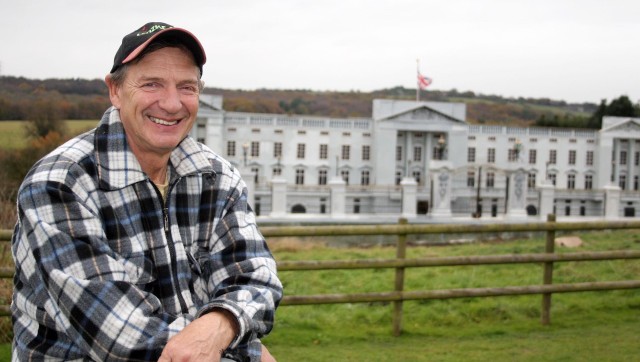 When Eddie Heath asked the queen if he could burn down Buckingham Palace in effigy, she naturally said ... yes?
Heath does this sort of thing often, torching models of famous landmarks for charity. So Her Majesty didn't object when he wrote for permission, reports the BBC.
"I ... got a reply that wished me all the best," he told the network.
Over five months Heath built a 26-foot-tall replica of Buckingham Palace mostly out of donated wood pallets, and it's going up in flames on Sunday at the Royal Oak pub in Dilhorne, England, The Sentinel wrote. There will also be fireworks and music, with the proceeds going to the Midlands Air Ambulance. About 2,000 people are expected to attend.
Heath, a 63-year-old retiree who often works with his three sons and wife Christine, told the Sentinel he chose Buckingham Palace to celebrate the Queen's Diamond Jubilee. Heath has built and burned dozens of iconic structures, including the White House and Wembley Stadium, raising nearly $128,000 for charities. He has been featured in "Ripley's Believe It Or Not." But this may be his, um, crowning achievement.
His Buckingham Palace is 93 feet wide and 26 feet tall, according to the Daily Mail. And ready to burn.
"I'm an artist and that's my exhibition," he told the Mail.

BEFORE YOU GO
PHOTO GALLERY
Man Burns Buckingham Palace For Charity