We present your cuteness ration for the rest of the year.
The Chengdu Panda Base in China recently released the most adorable photograph of baby pandas ever. According to CNN, the seven new panda cubs were born in the Sichuan-based breeding center between July and September 2012.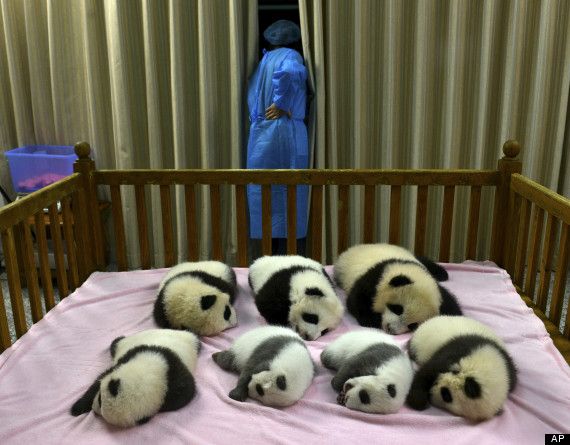 Four of the pandas are male and three are female. The eldest is a male called Oreo and the youngest are a pair of twins, Cheng Shuang and Cheng Dui.
Of the seven pandas, the biggest is Aoliao weighing 13lbs.
"It's so exciting to see the seven panda babies together for the first time," Aimee Cheung told the Daily Mail.
Their births bring the number of pandas at the Chengdu Panda Base to 113, making it the biggest group of artificially-bred pandas in the world.
The picture was taken by New Jersey-native Melissa Katz, who is a finalist in the ongoing Pambassador Competition, a global campaign to recruit three panda ambassadors.
Katz and 15 other Pambassador finalists are in Chengdu for the next two weeks to learn about panda conservation and prepare for the final competition on November 17.
During their one-year "ambassadorship", the selected winners will be given the opportunity to witness a panda delivering babies and spend time with the cubs, reports Sky News.
They are also expected to visit pandas living in different countries and to promote conservation.
Talk about best job ever.

BEFORE YOU GO