Microsoft has been playing up the speed of of Internet Explorer in a flashy TV advertisement lately, and according to at least one research firm, the much-maligned web browser may actually deliver the goods.
Internet Explorer 10 -- the edition of Microsoft's own browser designed especially for use on the hot-off-the-presses Windows 8 operating system -- is the fastest browser for Windows, per the findings of app management startup New Relic. In a blog post on the New Relic website, the firm claims to be monitoring application performance on 40 billion page views per month across several different operating systems, and it has taken that big amount of data and analyzed it to determine the fastest browsers on each operating system.
For Windows, the winner was IE10 (only available on Windows 8, for now); IE9 was a close second, followed by versions of Firefox, Safari and Chrome. On the Mac, the newest version of Chrome -- Chrome 19 -- finished first, followed by several prior Chrome releases and Firefox. (Curiously, Apple's Safari browser -- specially designed by Apple for its own Mac operating system -- does not make an appearance on the list, even though New Relic measures it as the most popular browser for Apple computers).
New Relic also slapped together an infographic for you to visualize the results with a few more nuggets of information about browser speed and browser share: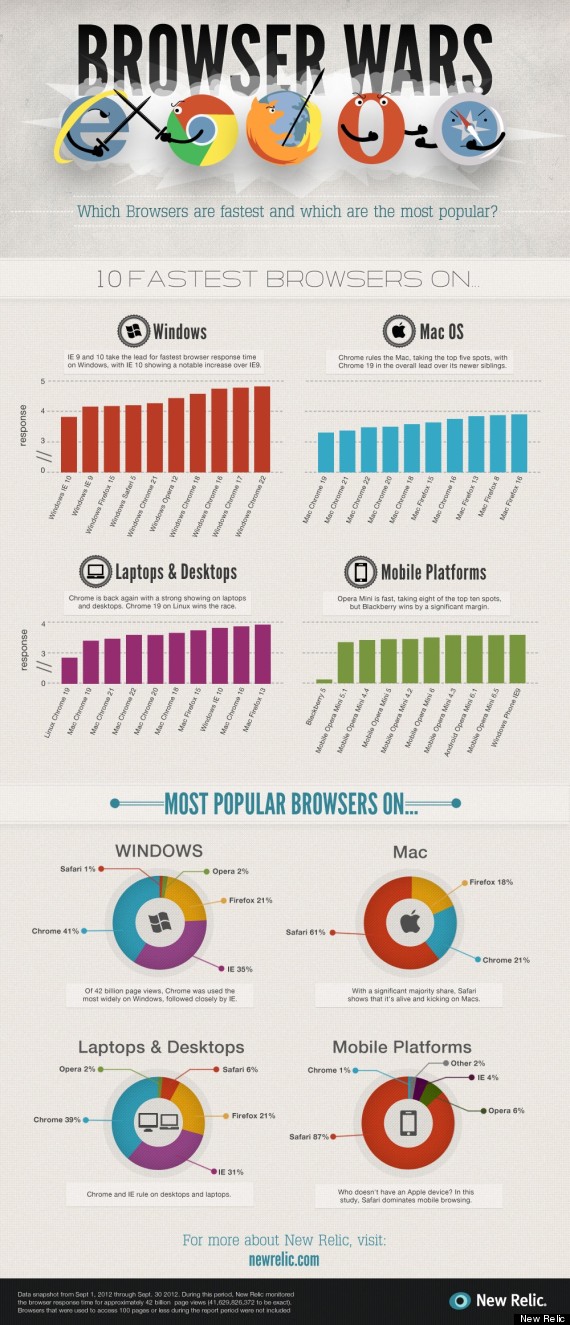 You shouldn't take this as a definitive, be-all-end-all conclusion -- browser speed tests come out constantly, as do newer, faster version of browsers -- but if you're feeling some sluggishness on your current Windows browser, perhaps it's time to switch over to a competitor (or update to the latest version!).
BEFORE YOU GO