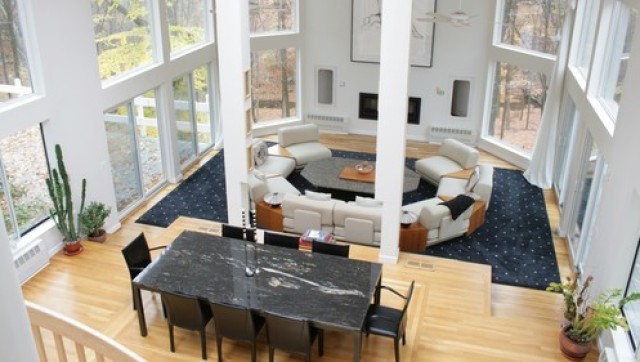 With a background in marriage and family therapy, Sharon O'Neill knows you can learn a lot about interpersonal relationships from the homes that people share. In fact while working with her clients, often times issues will arrise when a couple's house isn't the right fit for their lifestyle and it can really come in between them. She referred to one case for example, when she discovered that a couple's marital issues were stemmed from the woman being upset that her newly designed home had a private workroom for her husband, but no personal space for herself. So naturally when it came time for O'Neill and her husband to purchase a home in the country, they were sure to keep both of their needs in mind. Their stunning contemporary in Pound Ridge, New York melds both of their styles and is a house tour you shouldn't miss.
Since the O'Neills both have busy full-time careers, they wanted a peaceful and serene home that was at one with nature, and this property is just that. Nestled in the woods, you can see a running tributary from a river that flows from Pound Ridge all the way to Stamford, Connecticut in the backyard. And this breathtaking example of modern architecture has a lot of history. Built in the '70s, the structure was originally made up of two dodecagons, or twelve sided buildings that were connected by a walkway -- one for living and one for sleeping. A decade later, a previous owner totally transformed the home by adding a soaring great room between them, connecting these spaces. It is evident that Vuko Tashkovich, a well-known architect that had designed many of the contemporaries in the Westchester-area had consulted on this home's design, and is responsible for the eye-catching curved staircase in the front hall.
Inside, the couple agrees that less is more, and prefers to decorate in a way that shows off the house's simplistic architecture and lets it speak for itself. They have chosen clean-lined, modern furnishings in a palette inspired by nature, and their favorite space is the dining room, where they enjoy the four-season view from the expanse of windows that surround it. They chose the slab of granite that makes up their dining room table together, and it's especially important to them because it's where friends and family gather for holidays and get-togethers. Several largescale charcoal drawings by their favorite artist from Montreal, Michel Marchand, compliment their minimalist decor. The kitchen, where they make sure to cook a great meal together every Thursday night, is another room the O'Neills like to spend time in.
The home is so elegant that they have enlisted Andrea Raisfeld Locations to rent it out for private events and photo shoots. Click through the slideshow below to see photos from the site.
Have something to say? Check out HuffPost Home on Twitter, Facebook, Pinterest, Tumblr and Instagram.