Rachel Maddow ripped Karl Rove for disputing President Obama's victory on Fox News on Tuesday night.
Fox News had called the election for Obama when Rove, a Fox News contributor, began to argue with the network about the announcement. Rove said it was "premature" and "early" to make any real decisions, prompting some awkward reactions from anchors Bret Baier and Megyn Kelly and plain disbelief from observers.
Over at MSNBC, Maddow took stock of the situation. "I don't mean to cross-advertise here, but on the conservative cable news network Fox News Channel – Fox News Channel called Ohio for Obama, but the on-air talent at Fox News Channel is refusing to concede that they believe it," she said.
"Can you define that word 'talent' for the people who are not in this industry," fellow MSNBC host Chris Matthews said. "They happen to have positions. It doesn't say anything about their quality."
"People who are wearing makeup and have cameras pointed at them," Maddow said. "It's not everybody who's on Fox News tonight, but some of the people who Fox is putting on tonight are refusing to believe their own network's call in the state of Ohio."
She said it was Rove who "is now trying to get on air the Fox News Channel to rescind its call in Ohio in favor of the candidate that he has bankrolled to the tune of hundreds of millions of dollars. This is a remarkable thing."
Later, Maddow launched into a broader commentary on what she saw as the trend of "the right questioning what used to be agreed upon data." She alleged that conservatives have turned to refuting any and all hard facts that do not support their ideas — an argument that the MSNBC host has made before.
"It's worth looking at close races and I do not begrudge the Romney campaign for saying that they've got issues with what's gone on with Ohio," Maddow said. "But to decide that a result isn't a result as long as you don't like the outcome is something that means that we cannot work together as a country anymore. And we can't go down this road very much further."
BEFORE YOU GO
11/07/2012 12:23 AM EST
That's A Wrap!
Well folks, thanks for spending your election night with HuffPost Media, experiencing the wacky world of CNN's election gadgetry, Chris Matthews, and Fox News' dueling personalities.
Though the Romney campaign is not conceding Ohio at the moment, networks have unanimously called the election for Obama and are awaiting the speeches that will inevitably follow.
We'll post updates of our newest posts here, but go to huffingtonpost.com/media for all the latest!
11/06/2012 11:45 PM EST
OMFG FOX NEWS
Sorry for the lack of an update but FOX NEWS IS ARGUING WITH ITSELF ABOUT WHETHER OBAMA WON OR NOT. Just, just read: http://www.huffingtonpost.com/2012/11/06/fox-news-contesting-own-election-call_n_2085817.html?
11/06/2012 11:18 PM EST
CNN CALLS IT!
CNN calls that President Obama is re-elected. That's a wrap.
11/06/2012 11:15 PM EST
NBC CALLS THE ELECTION FOR OBAMA
NBC called the entire election for President Obama. CNN's current count stands at 249 electoral votes for Obama, and 191 for Romney.
11/06/2012 11:07 PM EST
The Senate!
CNN projects that the Democrats hold the Senate. Insert CNN's "BALANCE OF POWER" graphic now!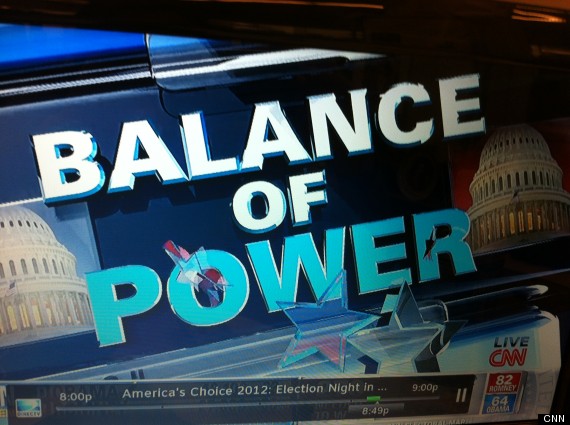 11/06/2012 10:54 PM EST
ABC News Updates Viewers On Electoral Count
With ABC News calling Arizona for Gov. Romney, host George Stephanopoulos described the electoral votes in so far as "very, very close." Romney is at 174, and President Obama is at 173. "But there are so many big states to come in: Ohio, Virginia, Florida, North Carolina," he said.
11/06/2012 10:46 PM EST
Media Coverage Stresses Demographics
@ HuffPostMedia :

Big talk tonight: demographics. On ABC, Ron Brownstein says this is 'the last time' a party will try to win on the backs of the white vote.
11/06/2012 10:40 PM EST
Chris Matthews Is 'Annoyed'
As Maddow said that MSNBC was waiting to bring its viewers Elizabeth Warren's speech, Matthews said, "There's a tradition you can't really give a victory speech until your opponent accepts defeat. It's pretty powerful."
Lawrence O'Donnell interjected that that Warren probably wanted to get her remarks in before the 11:00 p.m. local news. "If she waits for Brown, she might not be able to do it," he said.
"Maybe she's waiting for Brown!" Maddow said.
"Well I think it's powerful because people watch television and watch elections, and they need to have some credibility. They need to have for someone to say, 'It's over.' And the best person to do that is the person who loses."
Steve Schmidt agreed and said he thought it was very "bad form" for the victor to give a speech before the person who was defeated. "I think that's a tradition you don't want to see lost in an election," he added.
11/06/2012 10:28 PM EST
CNN Pundits Agree
@ HuffPostMedia :

James Carville: Obama's going to win. Alex Castellanos: 'I hate it when he's right.'
11/06/2012 10:22 PM EST
@ markknoller :

If Pres Obama wins Florida at this point, the election is over," says CBS News anchor Scott Pelley, but vote count extremely tight.
PHOTO GALLERY
Mitt Romney Campaigns