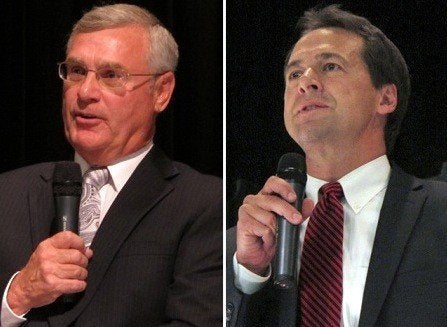 By MIKE BAKER, THE ASSOCIATED PRESS
OLYMPIA, Wash. — Republicans who had lofty ambitions for taking over governors' offices this year fell short in another one of their targeted states Wednesday and clung to diminishing hope in another.
Democrat Steve Bullock was elected governor in Montana in a race that had been too close to call until returns from key counties were tallied. Washington state remained the only undecided governor's race, and Democrats there were in position to extend nearly three decades of control.
Republicans did pick up the governor's office in North Carolina – as expected – and defended the seats they already held. But the party had used its substantial cash advantage to target four particular contests, since most of this year's races were in states held by Democrats.
Still, a spokesman for the Republican Governors Association was pleased to see the party gain North Carolina even as it lost seats in Congress.
Mike Schrimpf said the GOP sees governors as somewhat of a firewall against President Barack Obama's policies – a potentially important function as states make major decisions on the implementation of the president's health care law in the years ahead.
"Over the last few years, since Obama took office, you've definitely seen governors play a leadership role in pushing back against the Obama administration when it overreaches and really trying to encourage federal restraint," Schrimpf said. "You'll see them continue to play that role."
Republicans now hold 30 governorships after holding just 22 a few years ago. The North Carolina victory, in which former Charlotte Mayor Pat McCrory defeated Democratic Lt. Gov. Walter Dalton, is the first GOP win in that seat in almost a quarter-century.
Colm O'Comartun, executive director at the Democratic Governors Association, was pleased with the results. He noted that the math wasn't in the party's favor this year: Only 11 seats were up for vote, and eight of them were held by Democrats, meaning they were expected to be on the defensive.
That could change two years from now, when the nation will have three-dozen governor's races, many in states currently led by Republicans.
"It's a very different dynamic," O'Comartun said.
In Washington state, Republican candidate Rob McKenna held out the possibility that late votes would swing his direction. Because the state votes entirely by mail, and ballots only need to be postmarked by Election Day, many votes were still to be counted.
McKenna had been a major GOP investment, as both sides combined to spend more than $40 million in the race.
In Montana, Democrat Steve Bullock defeated Republican Rick Hill. Bullock had run promising to build on the budget successes of departing Democratic Gov. Brian Schweitzer.
New Hampshire's race was expected to be competitive but turned out not to be on election night. Former state Senate Majority Leader Maggie Hassan comfortably kept the governor's seat in Democratic control after she beat Republican Ovide Lamontagne, an opponent she said was too extreme for the state.
Democrats also held their power in Delaware, Missouri, Vermont and West Virginia. Republicans remained at the top of state government in Indiana, North Dakota and Utah.
BEFORE YOU GO
PHOTO GALLERY
Election Day 2012