UPDATE: Nov. 8, 3:06 p.m. -- HuffPost's own calculations, based on numbers reported by the Associated Press, have Barr in sixth place, with 49,534 votes, behind Virgil Goode, who has 117,500. Google's results, however, do not include Goode.
Previously reported:
Roseanne Barr's campaign for president of the United States might not have been as vehement as those of Barack Obama and Mitt Romney, but the comedian managed to place fifth in the 2012 general election.
She may have accounted for 0 percent of the popular vote, but Barr actually snagged 48,797 votes, according to Google's U.S. general election results. She placed fifth in the general election behind Green Party candidate, Jill Stein, who got almost 400,000 votes, and ahead of Rocky Anderson, the former mayor of Salt Lake City, Utah.
Roseanne Barr places fifth in the U.S. general election. Story continues below.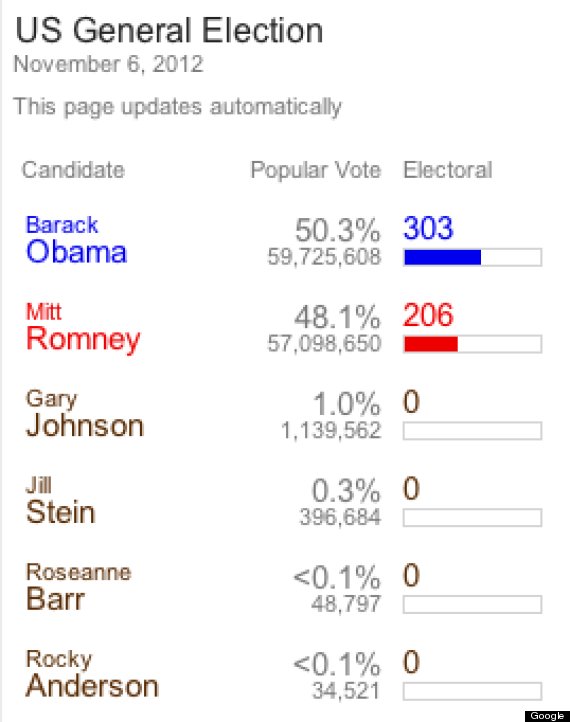 Barr reportedly got more than 7,600 votes in Tampa, Fla., with 90 percent of the vote counted, according to My Fox Tampa. She qualified for the ballot in California and in the much-contested swing states of Colorado and Florida.
President Obama, however, wound up with 303 electoral votes and a second term in the White House.
Despite her loss, Barr was happy to see an Obama victory.
Barr announced her bid for president on the Peace and Freedom ticket back in August. She and vice presidential running mate, Cindy Sheehan, who protested against George W. Bush after her son died while serving in Iraq, ran as an alternative option for frustrated voters.
"Cindy and I are the 'Throw the Bums Out' ticket and the 'Ballot Access' ticket. The American people are sick and tired of this 'lesser evil' garbage they get fed every election year," said Barr before the party's convention vote, according to her official candidate website. "Both the Democrats and the Republicans do the same evils once they're in office… I'm here to tell the voters: if you want to tell the government and the two domineering parties that you're sick and tired of all their evil, register in the Peace and Freedom Party and vote for me and Cindy."
Highlighted issues on the Barr-Sheehan platform included marijuana legalization, environmental preservation, ending the wars overseas and equal rights.
[h/t BuzzFeed for the find.]
BEFORE YOU GO