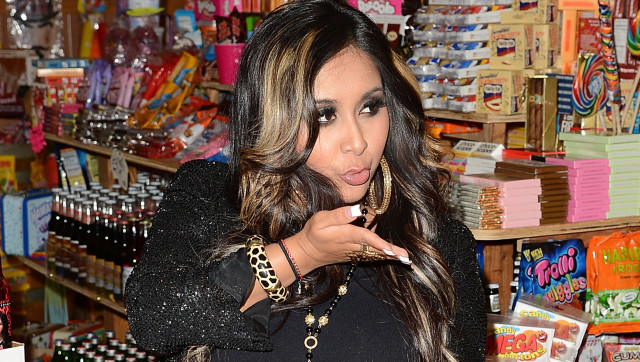 Just when you thought "Jersey Shore" was over and you'd be left without a means of connecting with these multi-dimensional pop culture figures, Nicole "Snooki" Polizzi announces that she's not done yet... with the style world, at least.
The new mom will be appearing on HSN tonight to shill her new perfume and nail polish line, Women's Wear Daily reports. The fragrance, "Snooki Couture," will be her second perfume and will follow the 2011 launch of "Snooki," a perfume initially inspired by the scent of pickles (we really couldn't make this stuff up). The three-piece nail polish set will be called "All That Glitters" and will feature such punchy shades like "Money Maker" and "Orange You Tan."
During the HSN broadcast, the 24-year-old reality star will also be showcasing her line of sunglasses and slippers. We've personally tried on the slippers at the office, and, while they're certainly comfortable, we can't say they're exactly the kind of house shoes you'd want company to see you wearing. But, hey, different folks, different strokes...
You can catch Snooki on HSN at 9pm tonight. "Snooki Couture" will retail for $50, while the nail polishes and nail decal sets are $7.99 and $8.99, respectively. Happy shopping, ya'll!
See more celebrities with fragrance lines!
PHOTO GALLERY
Celebrities With Perfume Lines
Want more? Be sure to check out HuffPost Style on Twitter, Facebook, Tumblr, Pinterest and Instagram at @HuffPostStyle.