This year has been a big one for Taco Bell. It unveiled its new Cantina menu and announced a design overhaul. On Thursday, Taco Bell launches an entirely new dessert menu.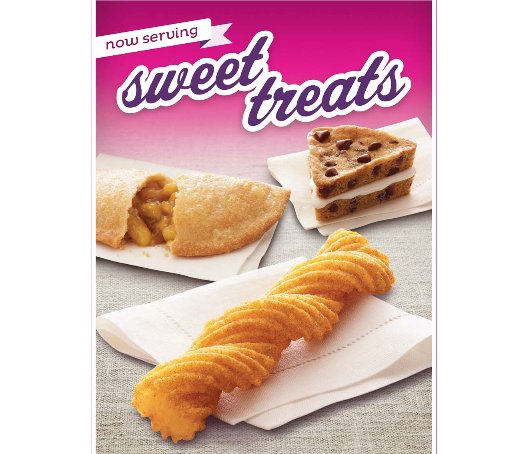 A press release outlines some of the new offerings, which all cost less a dollar:

Caramel Apple Empanada: A crispy golden pastry pocket filled with chunks of warm apples in creamy caramel sauce.
Churro: Taco Bell's version of the Mexican donut, dusted in cinnamon sugar and served warm.
Cookie Sandwich: Two golden, delicious triangle-shaped chocolate chip cookies with vanilla cream filling in between.
The three items above have a permanent place on menus nationwide, and some other products will be available for a limited time. Among them is the Strawberry and Mango Crème Frutista Freeze, an icy beverage blended with soft serve ice cream.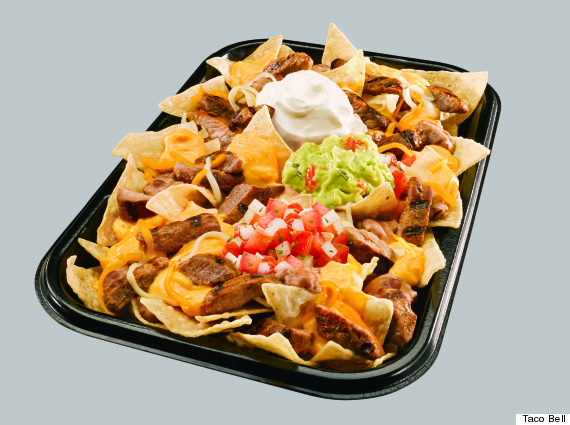 That's not all -- Taco Bell is also introducing XXL Steak Nachos, which feature a triple portion of thick cut steak piled with melted cheese, guacamole, pico de gallo and tortilla chips. There's also a chicken option. It looks huge; Taco Bell is calling it "restaurant-sized," but that just seems like a nice way of saying "this is way too much food under normal circumstances."
Obviously, none of the aforementioned items are diet-friendly.
We may be seeing even more new items down the line, since a couple are still being tested in select markets. There's the Cantina Bell Double Steak Quesadilla, the latest Cantina Bell Menu item, which is enjoying a test run in Charlotte, North Carolina, and Dayton, Ohio locations are trying out a smothered burrito that offers the "indulgence of a restaurant-style enchilada and the fillingness of a burrito all with the convenience of a [quick service restaurant]."
Yes, America. You can have it all!
BEFORE YOU GO
PHOTO GALLERY
America's Favorite Chains