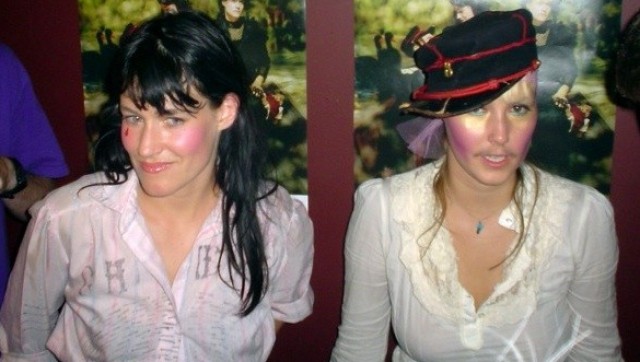 TOP 5 FOR THURSDAY, NOVEMBER 8
1. Adam Carolla At Warner Theatre
Read our Q&A with the controversial podcaster. 8 p.m., all ages, $34.50 to $49.50
2. CocoRosie At 9:30 Club
Things will get quirky and weird with this Touch and Go indie duo. 10 p.m., all ages, $20
3. Live Music & Art Auction Fundraiser At Gibson Guitar Showroom
Do you have a guitar lying around your bedroom collecting dust? Donate it to a kid who just wants to rock. 7 p.m., all ages, $30
4. Help Shop DC Opening Party At 522 10th St. NW
This pop-up shop will work as a publicity campaign for Help Remedies, a health care products company that makes medicine with no additives and uses eco-friendly packaging. While that's neat, we'll be attending for the free food from Kaz Sushi Bistro. 6:30 p.m., all ages, no cover
5. Second Thursday Music: School Street Ramblers At Athenaeum
Why not head back in time and hear some "stained-glass bluegrass"? 7 p.m., all ages, no cover
TOP 5 FOR THE NEXT 5 DAYS
Friday, November 9
The Modern Gentleman at Nival Salon and Spa
A men's salon night that's not targeted towards any specific group. This isn't for young men or gay men or any specific ethnicity, it's for all men. Treat yourself.
Saturday, November 10
Crafty Bastards at Union Market
The big event for people that like to put a bird on it.
Sunday, November 11
"À bientôt, j'espère" at National Gallery of Art
The NGA Chris Marker tribute begins with his 1960s-style protest piece of a workers strike.
Monday, November 12
David Johansen at Hamilton
The New York Doll, "Hot, Hot, Hot" singer and Bill Murray friend will perform an acoustic set.
Tuesday, November 13
Bobby Bare Jr at IOTA
Dirty country in a not so dirty Arlington club.
BEFORE YOU GO
PHOTO GALLERY
Comedians React To Adam Carolla Controversy On Twitter