Presumably upset by President Barack Obama's reelection, a Georgia teen, like many other disgruntled Americans, took to Twitter to express her frustrations. She could never have imagined, however, the sort of backlash she would get for her tweet.
As the Herald Sun notes, on Wednesday afternoon, 18-year-old Kristen Neel tweeted this comment to her followers: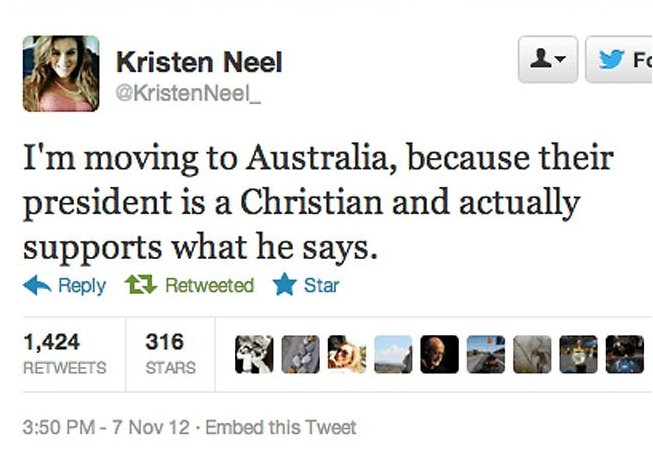 (Screenshot courtesy of the Herald Sun)
Within hours, an onslaught of criticism erupted as many Australians pointed out that the leader of their country, Julia Gillard, is an atheist and a woman.
Ian Cuthbertson, TV editor at The Australian, and author Mark Pesce, were among those who responded to Neel's message.
@kristenneel_ Our prime minister is a woman, an atheist who lives with a man she hasn't married. I don't think you'd like it here.

— Ian Cuthbertson (@cuthbertsoni) November 7, 2012
.@kristenneel_ 1) Australia does not have a president.2) Our prime minister is an atheist.3) Yes, she really is.

— Mark Pesce (@mpesce) November 7, 2012
.@kristenneel_ our "president" is a prime minister, is a woman, and is an atheist. I think you meant Antarctica. Move there.

— Gilbert (@post_rock0) November 7, 2012
@kristenneel_ Not one word of that sentence is true. I'm not even angry, I'm impressed.

— ABCnewsIntern (@ABCnewsIntern) November 7, 2012
According to Australia's Herald Sun, Neel's tweet quickly became a viral sensation, receiving more than 1,400 retweets from "bemused Aussies" and others.
But while many criticized the Georgia teen for getting her facts muddled, some Twitter users leapt to her defense, "saying she had been the victim of trolls," Australia's Fraser Coast Chronicle writes.
Still, less than a day after her tweet was posted, Neel disabled her account.
Disappointed to find that @kristenneel_ has removed her account. Here is her classic #election2012 tweet for posterity: twitter.com/ABCnewsIntern/…

— ABCnewsIntern (@ABCnewsIntern) November 7, 2012
In the aftermath of the Twitter frenzy, many have pointed out that Neel is not alone in her ignorance of the land Down Under or in her desire to move there following Obama's reelection.
In a post entitled "Kristen Neel not alone in not having a clue about Australia," the Chronicle's Mark Furler wrote that "many Americans know about as much about Australia as they do Austria."
"I remember once being asked where I was from by a waitress in a food outlet in the US," Furler writes. "After telling her Australia, she replied, 'How far is that drive?'"
"Given the level of coverage of Australian politics on US TV news, you can forgive Kristen Neel for her tweet," he continued.
Nonetheless, plenty of people in the Twitterverse have also said they would move Down Under if Obama won the election. Buzzfeed has a list of them here.
BEFORE YOU GO
PHOTO GALLERY
Political Tattoos That Really Suck