Anyone who's followed pay-by-smartphone startups like Square and Venmo, or tracked Google's work on Google Wallet, knows the tech industry has its sights set on making traditional credit cards obsolete. "Near field communication," or NFC, is an emerging technology that lets devices in close proximity communicate by radio wave, and is poised to kill plastic money forever. An NFC-equipped phone can be waved by a scanner in a store, and bam, an item is paid for.
But credit cards aren't going down without a fight. This week, Mastercard unveiled a credit card with touch-sensitive buttons and an LCD display, not unlike the smartphones that will one day totally replace them. Here's a mock up of the advanced Mastercard, a.k.a. Mastercard's "Display Card":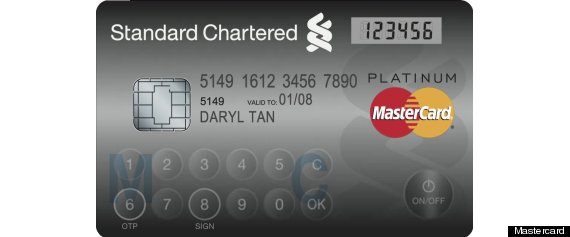 This isn't a first for Mastercard. As ArsTechnica notes, the American financial services company has partnered with banks in Turkey and Romania to issue credit cards with keypads and displays.
Like the contracts we sign with credit card companies, there are a few caveats to this new type of credit card. It's only available in Singapore, and the keypad is there mainly to do one thing: punch in a password as a way for rich Singaporeans to authenticate large purchases or other money transfers.
But this fancy LCD card -- manufactured by California-based NagraID Security and in collaboration with Standard Chartered Bank Singapore -- may have other uses someday, too.
"In [the] future, this card could incorporate additional functionalities and be able to indicate other real time information such as available credit balance, loyalty or reward points, recent transactions, and other interactive information," Mastercard wrote in a statement.
But shouldn't it be just as easy to do all those "interactive" features mentioned by Mastercard -- checking a credit balance, seeing loyalty points -- on a smartphone?
The underlying story here is that Mastercard wouldn't have a need for touch credit cards if development on NFC were to pick up pace. Stores are reluctant to install NFC readers because it's expensive, Reuters reports. And it's notable that while many phone makers, including HTC, Samsung, RIM and Nokia, sell NFC-enabled phones, Apple has so far chosen not to put NFC chips in their iPhones.
Until NFC gets popular, Mastercard will likely march toward credit cards with display screens. At the same time, it's still betting on the future with or without Apple: In September, it started letting developers build the ability to pay wirelessly into Android and BlackBerry devices, TechCrunch reports.
BEFORE YOU GO