With a radiant smile and a curve-hugging powder blue dress, "Grey's Anatomy" star Sara Ramirez is Latina magazine's Winter issue cover girl. In the "Wedding Exclusive" interview with the magazine, the Mexican-born actress discusses details of her intimate July ceremony and how she went from thinking she'd never marry to tying the knot with business analyst Ryan Debolt.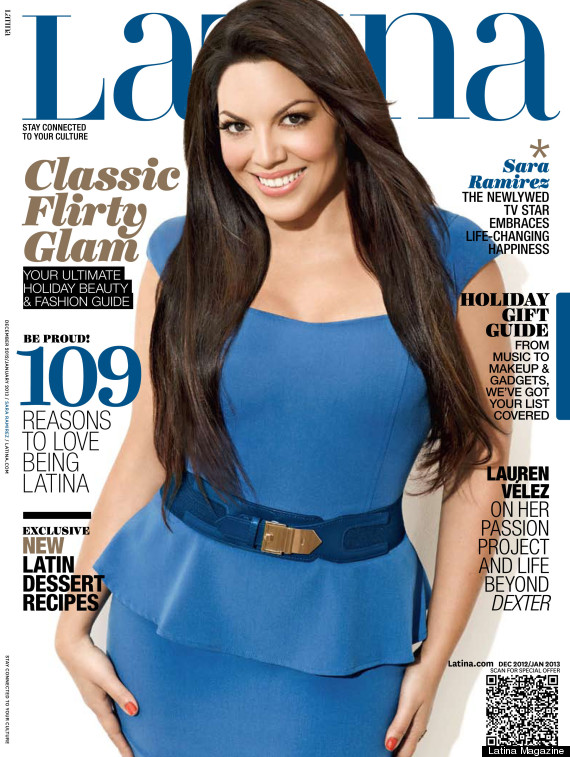 Over the summer, Ramirez's representative confirmed the actress, who plays Callie Torres in ABC's hit drama, had married Debolt.
"On July 4th 2012, after a year-long engagement, Sara Ramirez and Ryan Debolt were married in an intimate ceremony in New York. The private event was attended by close family and friends," the rep wrote in an email to The Huffington Post.
Ramirez may have kept the wedding service private but in the December/January issue, available in newsstands on Nov. 13, the 37-year-old actress happily recounts her big day.
"I had all kinds of fantasies, like a lot of girls, but did I actually go through the motions of planning a wedding and buying bridal magazines, and imagining things, and setting up who would play what role? No," Ramirez told Latina. "I started to believe that I would be one of those gals that never got married."
After witnessing her parents' divorce at the age of 7, Ramirez says she hadn't been able to picture herself standing at the altar and describes the internal transformation it took to finally let love in.

"Eventually, you work through those fears and realize that the examples and the psychology that you grow up with don't have to be. You can change patterns," she told Latina. "But I think along with that self-work comes timing, [finding] the right person at the right time. And then you realize that everything that happened up until then was there to teach you how to receive the person that's right in front of you."
And where is this newfound happiness going to take her? The Mexican star, who recently became the voice of Queen Miranda in Disney's much-talked about television movie "Sofia the First", can only see her life getting better with time.

"Because of the women that I love in my life who are in their 40s, I would say that I see myself being even more empowered," she said. "I think I've grown a lot, and I'm not done yet. I love life. It's just been such an interesting, fascinating ride getting to this point."
Check out a behind-the-scenes look of Sara's Latina cover shoot in the video above.
BEFORE YOU GO
PHOTO GALLERY
Sara Ramirez (PHOTOS)