Scarlett Johansson went "Psycho" for the latest issue of V Magazine. The 27-year-old actress, promoting her new film "Hitchcock," with Anthony Hopkins, channeled Janet Leigh's iconic shower scene for the glossy magazine's bold new cover. She also continued to prove herself to be amazingly well-adjusted when fielding questions regarding her body and sexuality.
"I think all little girls are aware of their sex appeal," Johansson told the magazine. "I think probably more so when they're pubescent. I mean I remember being an extremely flirtatious little girl. I liked boys. I think I was also inspired by certain films I watched when I was a girl. I loved Judy Garland and I loved these Rodgers and Hammerstein musicals and I had this idea of romance—the dream girl getting the dream guy—and all that stuff."
Johansson, who recently broke up with advertising executive boyfriend Nate Naylor, also said that recreating the infamous "Psycho" scene was hardly a concern for her, even though it involved her being wet and unclothed in the shower for extended periods of time. "We only had the luxury to shoot the scene for a day, and everybody was feeling very nervous because it involved water and nobody wants the actor to get wet," she said.
"They were concerned with modesty and all these things—but I don't care about any of that stuff and Janet Leigh never did either. You have got to be brave, get into the shower, and face Anthony Hopkins as Hitchcock jabbing you in the face with a 12-inch kitchen knife, you know."
For more, click through to V Magazine.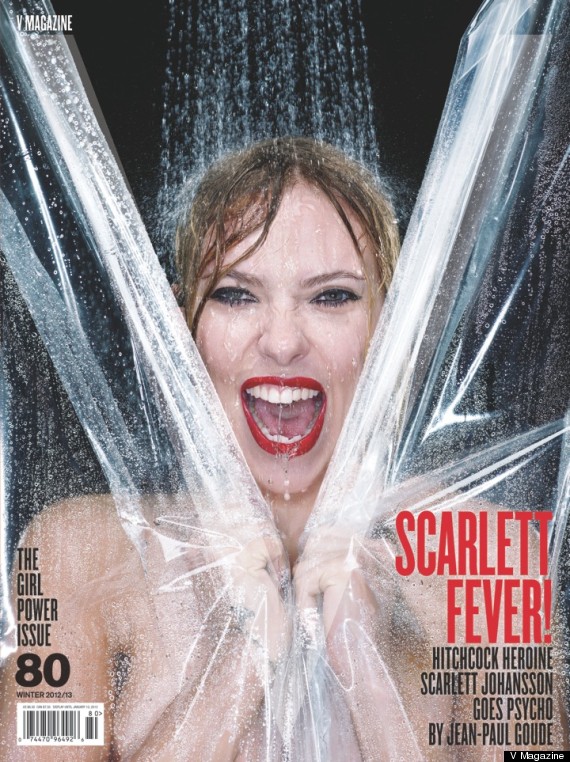 BEFORE YOU GO
PHOTO GALLERY
Scarlett Johansson's Style Evolution