Susan Sarandon is hosting a benefit for victims of Hurricane Sandy on Friday in Manhattan. SPiN for the Cause will take place at her ping-pong nightclub, SPiN New York, and all are encouraged to attend (the cost of entry is a donation of whatever amount the guest would like to pay).
"Time and again New Yorkers have proven to be the most resilient and compassionate people in the world," Sarandon told The Huffington Post. "It's a privilege to help support some of the families who have been devastated by Hurricane Sandy. Ping-pong is a wonderful excuse for a group of people to come together for a good cause."
The night kicks off at 8 p.m. and will feature cocktails, a number of DJs and, naturally, ping-pong. HuffPost's Entertainment Editor Kia Makarechi will be providing music from 9 to 10. Also available are raffle prizes from SPiN, Flex Mussels and Andre Balazs' Standard Hotel (Balazs and SPiN have teamed to open SPiN L.A. at the Downtown Standard). There will also be an open whisky and vodka bar (for a minimum donation of $20), sponsored by Pinnacle Vodka and Maker's 46.
Sarandon -- who was stuck in Las Vegas when the hurricane hit -- is well known for her activism, championing liberal causes and advocating on behalf of Occupy Wall St.
Though power has been restord to Manhattan, a number of areas are still devastated by the hurricane's effects. Breezy Point, a small neighborhood in the Rockaways, lost at least 80 homes to a fire caused by the storm. The Rockaways remain in need of supplies, water and power.
A myriad of other aid options are available for those not in New York or able to attend Sarandon's event. For a full listing of ways to help victims of Hurricane Sandy, please visit our How to Help page.
PHOTO GALLERY
Breezy Point Destruction After Hurricane Sandy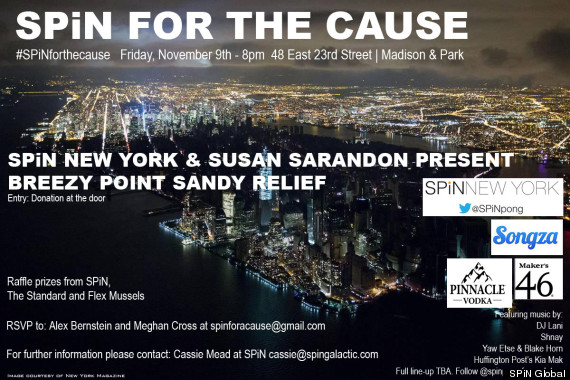 BEFORE YOU GO