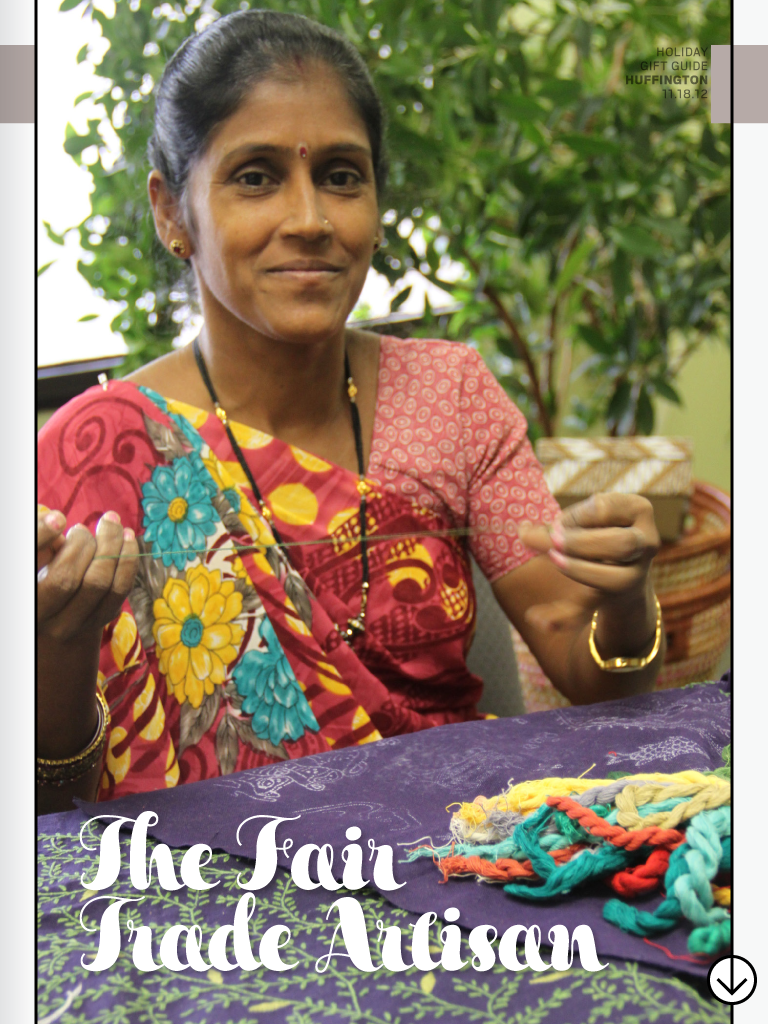 Handmade, fair-trade gifts might help you avoid the monotony of mall buys this holiday season, but few give much thought to the skilled artists who craft these unique gifts—the Ghanaian woman who intricately wove and twisted your basket into a colorful pattern; or the Haitian artisan who cut, perforated, and painted that piece of recycled metal wall art you've been eyeing.
Sushila Ashok, from Ahmedabad in western India, is one such artisan, whose crafts—created in collaboration with other artisans—are sold by fair-trade companies each holiday season. Ashok works for St. Mary's, a local division of fair trade nonprofit SERRV, which employs marginalized artisans worldwide and sells their goods at prices that create livable wages. Ashok, who speaks Hindi, and her translator and St. Mary's co-director, Sister Silvia Aranha, spoke with Huffington about the story behind the gifts you love to give.

What types of items do you make, and do these pieces symbolize parts of you or your culture?

Sushila Ashok: [I make] wall art, pillowcases and a sampling of products. My favorite pattern is called "Under the Sea"—mostly because I can do it faster (laughs). Culture comes into play sometimes and other times not. Designs include images like elephants and other things that symbolize India, but it's also about the stitches—which are most efficient.
Crafting these fair trade gifts is anything but an assembly line. What does it look like when all these artisans come together to hand-make a one-of-a-kind item?
SA: There is a process, from buying cloth in the market, dying, cutting, preparing the design, hand-embroidering, washing, ironing, stitching and backing. There may be around 10 people involved in creating the product. I do embroidery.
Tell us about your family and how you balance work with caring for them.
SA: We are poor, lower class. I have a girl, 18, and a boy, 12. I only have a seventh-grade education. I start working at 9:30, doing embroidery work until 5:30, and then I go back home with the children and cook food, wash clothes and do household work. My husband doesn't work.
Sister Silvia, How do we know fair trade is actually fair? Is there a formula for deciding wages?
Sister Silvia Aranha: They're paid per piece and we have a fair-wage calculator that allocates for time, resources and skill. It's different for each hand-crafted product.

How are the fair trade artisans who work for your organization paid?
SSA: With money and also in-kind household items. [St. Mary's] sets up savings plans for them, and also bonuses, benefits and loans. A person takes out a loan with us, and it's deducted over time from their salary. They put 12 percent of their salary into savings, and we match that for retirement.
This story originally appeared in Huffington, in the iTunes App store.