You know you're a bona fide style star when Vogue cosigns...twice!
Last year Solange Knowles snagged a mention in Vogue's Best-Dressed special edition issue, but shared the title with her superstar sibling Beyonce in the "Most Stylish Sisters" category. Twelve months later the "Losing You" singer, who has been busy taking the fashion industry by storm, earned a solo spot on the list and a mention on the cover.
Solange tweeted her excitement about the honor and included a photo of this year's special edition cover, which features Emma Stone in a pretty printed Proenza Schouler blouse and megawatt smile.
Wowzahs! Thank you @voguemagazine for selecting me best dressed a second year! twitter.com/solangeknowles…

— solange knowles (@solangeknowles) November 8, 2012
Congrats and thanks for the sneak peek, Solange! Based on the cover, here's what we can gather about who made the list...
You've got your no-brainers: First Lady Michelle Obama and Lady Gaga. The new-comers: Jennifer Lawrence and Kate Upton. And the pleasant-surprises: Zoe Saladana and Azealia Banks.
Azealia managed to squeezed in there despite publicly boycotting Dolce & Gabbana over the Italian fashion house's "racist" Spring 2013 collection.
We'll have to wait to until the issue hits newsstands later this month to see who else made the coveted list. In the meantime, check out the cover of Vogue's Best-Dressed special edition 2012--and Solange's amazing style evolution below.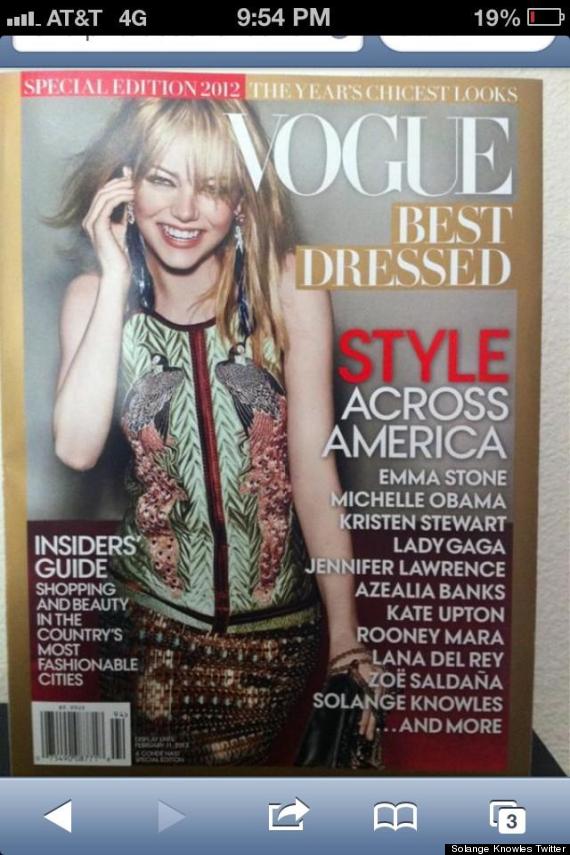 PHOTO GALLERY
Solange Knowles' Style Evolution