Maybe he was strange, but in the 1960s Tomi Ungerer was also a hit. The children's illustrator and writer from Strasbourg, France made his name in Manhattan, where the force of his talent broke publishers' rules -- for instance, the Miltonian one about how snakes can't be protagonists. (Meet Crictor, Ungerer's groundbreaking reptilian hero.)
Then one day, Ungerer went and broke the unbreakable rule, by American standards at least. He published erotic art. Presto, change-o, and also, arrivederci! School libraries dumped his work, reviewers refused to review him, he hightailed it back to Europe, and the overprotected American public lost a genius.
Or at least, so goes the beguiling premise of "Far Out Isn't Far Enough: The Tomi Ungerer Story." The feature-length documentary brings the legendary exile back to his adopted home once again, with a U.S. premiere at the DOC NYC film festival in Manhattan this Saturday.
The film's director, a Miami-based television documentary producer named Brad Bernstein, first came across Ungerer in 2008, by way of a New York Times profile about an alleged tussle some 50 years ago between Ungerer and the FBI. Knowing a character when he saw one, Bernstein wrote a letter to Ungerer asking if he could film him. Ungerer, who now lives atop a cliff in Ireland, did not bite. He had no interest in being misunderstood again. But his daughter and manager Aria (who also runs her 81-year-old father's Facebook and Twitter accounts) insisted he take a chance.
If the resulting film, pieced together over the past four years, is more loving than dispassionate, it's hard to blame Bernstein for picking a side. In Ungerer's care, digression is an art form. He practices it at length in "Far Out," usually in a way that forces his point. Within the film's first five minutes, he makes two leaps: that a sheet of paper is akin to a body, and that his calling is to then "rape [it] with my drawing."
The drawings in question, spare and evocative, are woven through the film by animator Rick Cikowski. Along with unconventional heroes -- the green and beady-eyed Crictors of the world -- Ungerer plays with conventional villains turned on their head. Adolf Hitler, and the bombings of World War II, which Ungerer witnessed as a young boy, are drawn with the clean strokes of a New Yorker cartoon, a model Ungerer has long been inspired by and whose strict adoption only makes his dark subjects darker.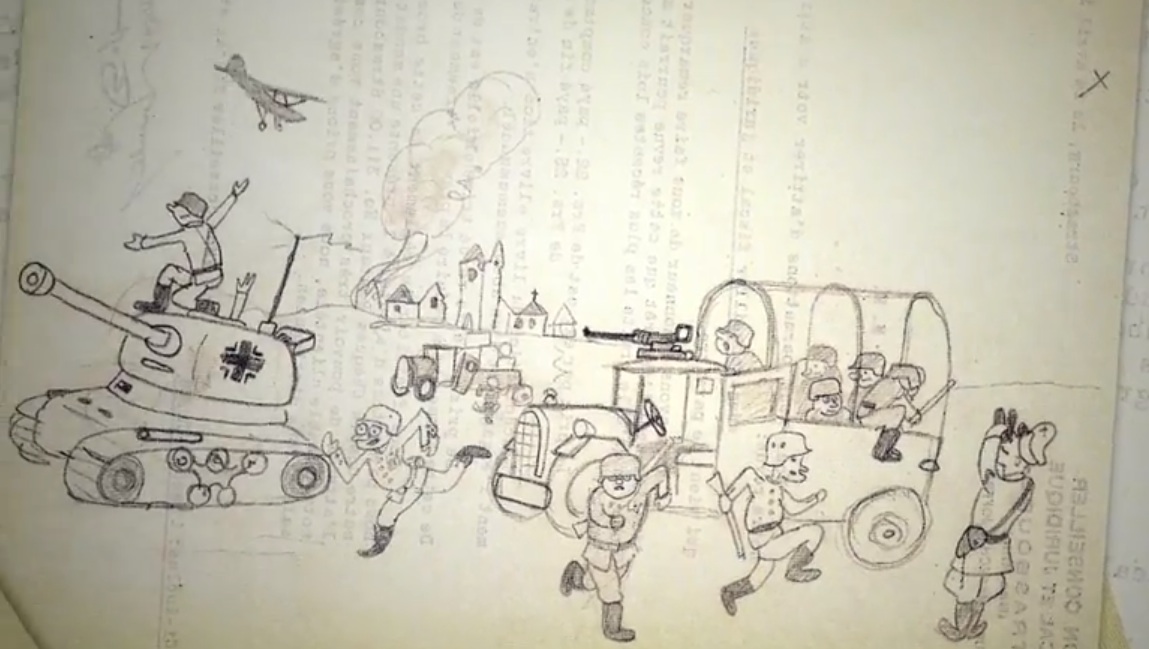 A sketch of wartime, by Tomi Ungerer. Still from "Far Out Isn't Far Enough."
The famously grumpy Maurice Sendak, who died before the film's release, also makes an appearance, in a brief but memorable cameo in which he credits Ungerer for inspiring him to create "Where The Wild Things Are." As far as celebrity endorsements go, there may be no other one to get. (Is there a more recognized children's illustrator or book in America?)
And yet, though Crictor and the rest are back on U.S. shelves, everything about Ungerer -- from his long-limbed, gap-toothed elegance to his cheerful embrace of fetishism -- is continental. Europe is where his fans are, where he lives, and where a museum dedicated to his work marks the world's only such for a living illustrator. The Huffington Post spoke with the octogenarian during the film's summer debut at the Toronto International Film Festival. He told us how it feels to see his face on the big screen, and to return, in a fashion and for a spell, to the country that never quite accepted him and yet draws him like a needle to "the huge magnet."
Scroll down for images of Ungerer's work.
The Huffington Post: How is it to have a film made about you?
Tomi Ungerer: It's rather strange. In the past, I've been very spoiled in Europe with a lot of documentaries. I did four films with Percy Adlon, but they were always on small screens. They were always on television. But I never like to watch myself. I don't like my voice, my accent. I speak German in a French accent, and French with a German accent and German with a French accent and so on.
Now, watching myself, it's scary, actually! It's bigger than life size. But then Brad did such a wonderful job. I'm delighted that he was able to formulate it without any treason, you know what I mean? Without any twisting. I still wonder, you know, how can you do it? I'm over eighty years old. A whole lifetime, he put into one capsule for an hour and a half, with so much feeling and vibrancy.
HP: Was it comfortable watching it last night with an audience for the first time?
TU: It was really heartwarming. I have no other word. I felt really reassured. I felt that I was among nice people who understood me. Because I'm a pretty kind of scattered person with all the things I do. I can be interpreted in any way.
HP: What interpretations were you afraid of?
TU: I don't like it when people say that I'm a pornographer. I do erotic art, and I do eroticism in my satire, and that really comes across [in the flim].
HP: You've described New York as having a magnetic force on you. Will you be visiting during the film's festival run?
TU: Right now, I'm just so glad to just get back on the American continent. I've loved New York like no other city in my life, and when you've loved you always still have a lingering melancholy about getting back. My last trip there was marvelous. I have so many old friends there. But I can't go so soon after this trip. That will be too hard on me. I have a hard time traveling...though I have turned into a living advertisement for Air Canada. Impeccable, impeccable!

HP: In the film, you talk about how much America fascinated you as a young man.
TU: And how!
HP: Do you think if you were young today and starting out, the country would hold the same appeal to you?
TU: This is a very good question. I suppose I don't know! I have changed altogether. I change all the time. Nowadays, I don't have that innocence I had then. When I arrived in America with $60 in my pocket, it was still the McCarthy witch-hunt era, which is how I got into trouble.
HP: What would you say has changed since then?
TU: What really struck me in New York when I was there a year and a half ago was that you don't feel any racial differences any more. The one language that is spoken is the smile language. You don't feel these lingering racial frustrations you used to have in the olden days. I feel that's changed, and it shows that anything can change.
Would you say that children's literature has evolved as well? Is it a moralizing force in the same way it was when you started illustrating?
I think children will always be children, but on the other hand, the background has changed so much, especially with immigration and people living in other countries. Children are exposed to completely different values. There's one constant, which is: good or bad. The moral. I think this should be taught in schools more, that what is bad is what is not profitable to anyone.
HP: Any plans to come back?
TU: In 2015, I'm having a big big retrospective at The Drawing Center in New York City. I'll come for that.
HP: And what's next?
TU: I just finished a book, which is called "Fog Man." It's being published in the spring. It's my homage to Ireland, the first time I've set a book there, and the first time in a children's book where it's all atmosphere. But I cannot tell you the whole story. You have to wait for that one.
Scroll through the slideshow below for a selection of Ungerer's posters and erotica. More work can be found at tomiungerer.com. :
PHOTO GALLERY
Tomi Ungerer: Posters And Erotica
CORRECTION: An earlier version of this article misidentified the animator for "Far Out Isn't Far Enough" as Brandon Dumloa, instead of Rick Cikowski. We apologize for the error.