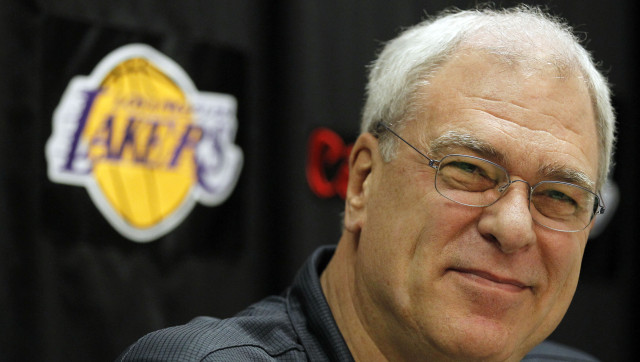 All signs (and hashtags) are pointing to Phil.
According to various reports, the 11-time NBA champion coach is close to returning to the Los Angeles Lakers shortly after the firing of Mike Brown.
Ric Bucher of CSNBayArea.com reported on Friday evening that one source informed him there is a "strong" possibility of Jackson returning to his former team, as long as executive VP Jim Buss gives him "the organizational reins."
The possibility seemed stronger on Saturday when the Los Angeles Times reported that the Lakers and Jackson planned on meeting that morning. Although he did refer to the Zen Master as the leading candidate for the gig, Ken Berger of CBS Sports tweeted that there are some obstacles before an agreement can be reached.
Whether or not these reports and reported meetings ever bring him back to the Staples Center, Jackson seems to have the inside track on the coaching vacancy at this point. It can't hurt that Magic Johnson wants him back, per Chris Broussard of ESPN. Apparently, Dwight Howard wants Jackson as well according to Chris Sheridan.
Most importantly, Jackson reportedly has designs on re-writing a Hollywood ending to his coaching career.
According to Adrian Wojnarowski of Yahoo Sports, the Lakers aren't even looking at any other potential candidates.
However, Mike Bresnahan of the Los Angeles Times tweeted that Bernie Bickerstaff will coach the Lakers in Sunday's game against the Kings while the team interviews other coaches just in case Jackson turns it down.
BEFORE YOU GO
All odds via Bovada
PHOTO GALLERY
Who's Next Lakers Coach?