WASHINGTON -- The Iwo Jima memorial in Arlington, Va., is said to be one of the tallest bronze sculptures in the United States.
A smaller version has now been encased in fondant.
Baltimore's Charm City Cakes -- you may have seen chef Duff Goldman during his 10 seasons on the Food Network's "Ace of Cakes" -- created an Iwo Jima cake to present during a Maryland Veterans Day celebration.
The cake was designed for an event being held Monday at Mission BBQ, where veterans were also to receive free sandwiches after a live rendition of the national anthem.
The story goes that the Iwo Jima statue was commissioned after Austrian-American artist Felix de Weldon -- moved by the famous World War II photograph that he'd seen in the newspaper -- made a small sculpture that inspired members of Congress to call for what was to become the 100-ton, 78-foot National Marine Corps Memorial depicting six soldiers raising the American flag on the Japanese island of Iwo Jima on Feb. 23, 1945.
The vicious battle on that island, by some accounts, claimed more than 8,000 American and some 23,000 Japanese soldiers.
The cake version of the memorial is smaller, though still large for a cake. Baltimore Magazine reports that the two-and-a-half-foot cake -- with chocolate espresso, chocolate peanut-butter cup and brownie layers -- is made to serve "at least 400 people."
Take a look at a sketch for the cake (we especially like that the sketch specifies that the base of the cake will be made of cake):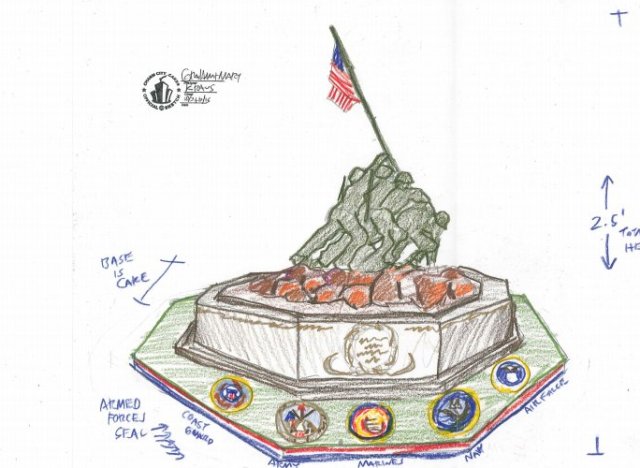 Here's the finished Iwo Jima cake: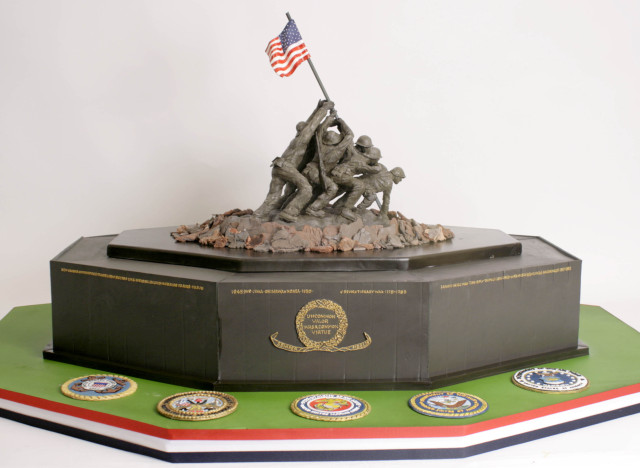 Check out some photos of the cake at Mission BBQ's event:
PHOTO GALLERY
Iwo Jima Cake At Mission BBQ
And here you can see some of Charm City Cakes' other inventive creations:
PHOTO GALLERY
Charm City Cakes Creations
BEFORE YOU GO