"Twilight" actress Christian Serratos might play the sweet best friend of Bella Swan, but in a new PETA ad campaign, the 22-year-old gets dark and deadly.
In a pro-vegetarian ad for PETA, Serratos urges fans to avoid eating animal products. "Your body shouldn't be a graveyard," the ad reads.
The photo shoot honors animals who have been sacrificed in the name of consumption, but it also pays homage to Serratos' Hispanic heritage. (The ad campaign features the actress dressed in Dia de Los Muertos, or Day of the Dead, attire.)
SCROLL FOR PHOTO
"Dia de Los Muertos is a holiday that pays tribute to the dead and also celebrates life," she told PETA. "So I thought what better of an idea to bring it in with PETA and let people know how we can respect the living and the dead. Going vegetarian could be an incredible option for people if they would just educate themselves."
Serratos said she had various reasons for going vegetarian, but she noted how the decision also improved her health. "I just felt better and brighter and lighter, and I had more energy … It was a big deal to me, being an animal lover."
The "Twilight" actress, who plays Bella's best human friend, Angela Weber, hopes that people will stop separating pets they love from animals raised on farms for slaughter. "We've been programmed to think meat is protein and you need meat," she told PETA. "No, we are not cavemen. There are plenty other ways."
Holidays are no exception. Serratos plans to celebrate this Thanksgiving with good ol' fashioned tofurkey.
"I'm a vegetarian and have a new PETA campaign out this fall," she told Maxim magazine in October. "I make a fabulous tofurkey for Thanksgiving. My Mexican-Italian family can't tell the difference."
This is not the first time Serratos has campaigned on behalf of animal rights.
In 2009, when she was just 19, Serratos stripped down for a PETA anti-fur ad. At the time, the ad turned heads because the teen actress was best known for roles in PG series like "Hannah Montana," "Zoey 101" and "7th Heaven."
LOOK: "Twilight" actress Christian Serratos' PETA ad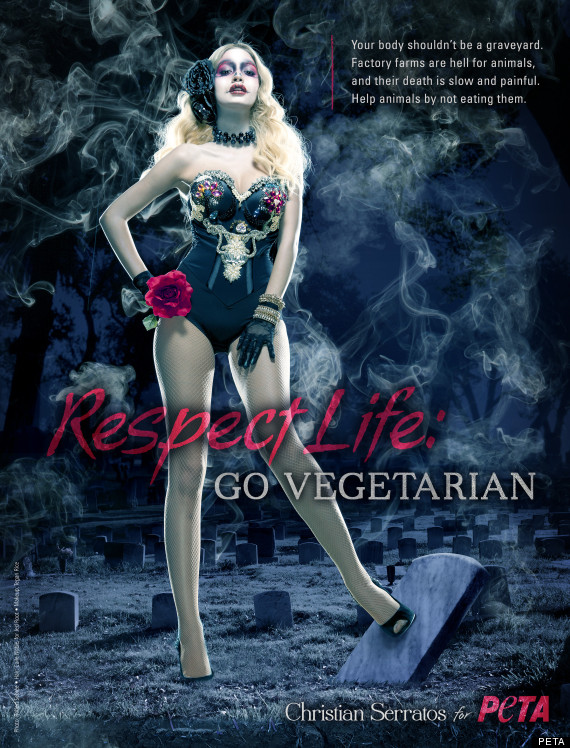 BEFORE YOU GO
PAST PETA ADS (WARNING-NSFW):
PHOTO GALLERY
Explicit PETA Ads