Six years ago, the artist Jeremy Kost made a name for himself photographing New York nightlife and all its beautiful weirdos at play. In his work, the Texas-born photographer captures a mythical reality somewhere between a gritty drag club at dawn and Oz at midnight, .
His latest exhibition, entitled, "Friends With Benefits," takes up one of Andy Warhol's great loves: the Polaroid image. But instead of snapping an instant and calling it a day, Kost creates multi-layered photo collages, capturing the textured complexity of identity, place and sexuality. Warhol's influence is tangible in the provocative photo remixes which showcase the many faces (and outfit changes) of Pittsburgh-based drag performers, who Kost refers to as "a dysfunctional family." We spoke with Kost on his hometown, drag family and his "fat mentality." Scroll down for images.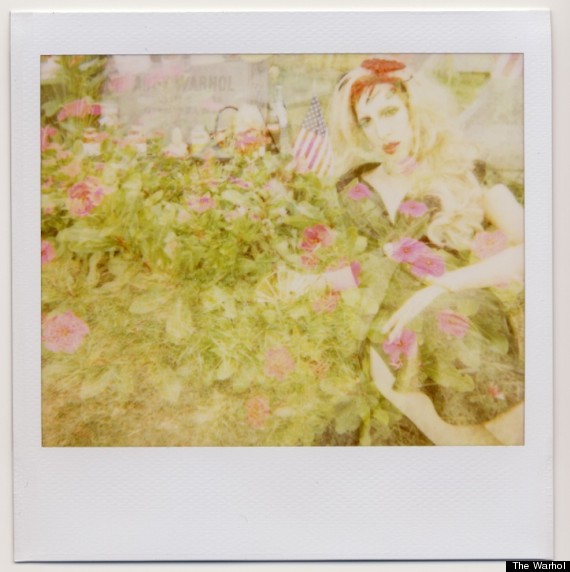 At Warhol's grave; St. John the Baptist Cemetery in Pittsburgh
HP: This exhibition focuses on an "intimate family of renowned Pittsburgh-based drag performers." How did you come upon this group and what about them in particular intrigued you?
JK: I actually met Sharon [Needles] and Veruca [la'Piranha] by pure chance on a really, dreadfully slow night at the now defunct Mr. Black in NYC. I was immediately taken with their provocativity, but also their perverted beauty. You might notice that most of the characters that I shoot tend to be outsiders within an outsider world... They were no exception.

HP: You told T Magazine, "I used to be 250 pounds, so I obviously tend to scrutinize bodies." When did you gain weight, when did you lose it, and what was the transition like for you?
JK: Well, I really grew up heavy from the time I was a child... I finally decided enough was enough around the end of my senior year at SMU in Dallas. It was also the time I started to come to terms with myself and my sexuality/personal identity. The transition wasn't an easy one, and frankly still isn't. I don't think you ever shake the "fat mentality". That said, my work with drag queens directly addresses this metamorphosis in terms of looking at transformation, be it for a night or in a more permanent way.

The video in the exhibition illustrates that transformation a bit more directly, as we "spy" on Sharon Needles and Veruca la'Piranha going from boys to drag queens. Created during a performance in Washington, DC, hosted by Mera and Jennifer Rubell at their Capitol Skyline Hotel, three surveillance cameras streamed live into the after party without guests knowing it was a live feed.
HP: The Met's "Regarding Warhol" exhibition has received some pretty lackluster reviews. Have you seen it? What'd you think?
JK: Well, this is a sort of delicate one, isn't it? On one level I think it's great that people are able to see some really fantastic individual works and that it's bringing people to the museum. On another level, I do think that some of the relationships that they tried to illustrate seem a bit banal and obvious. Specifically, I think it's really terrible that they didn't even remotely touch on Andy's relationship to Polaroids. That said, I'd probably have a different opinion if I were included, but in the end, the best place to see Warhol masterpieces is AT THE WARHOL in Pittsburgh!
PHOTO GALLERY
Jeremy Kost
"Friends with Benefits" is showing at The Warhol in Pittsburgh, Pennsylvania from December 2, 2012 – March 3, 2013.
BEFORE YOU GO