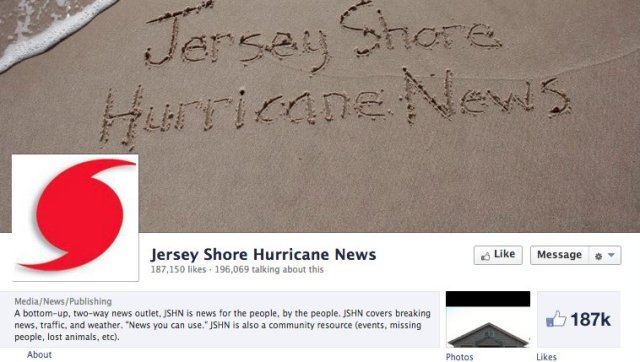 When Hurricane Sandy hit, people naturally took to the Internet to document the storm's ravages. One Facebook page, though, has gone from record-keeper to actually providing help to distressed citizens.
Justin Auciello, 32, a Good Samaritan living in New Jersey's South Seaside Park, created 'Jersey Shore Hurricane News' shortly before Tropical Storm Irene struck last year, according to the New Jersey Star-Ledger. In the wake of Sandy, it became the go-to resource for anyone trying to connect with loved ones or get updates on their homes and communities.
"When a huge storm hits, most people are not going to have power. So long as your phone is charged, social media can help you stay connected when nothing else can," Auciello told the Star-Ledger. "It's such a powerful tool."
Tim Husar, a friend of Auciello's, was one of the first users to add photographs of the destruction around him on to the page. He says the page became popular because it was one of the only sources of neighborhood news and information after the storm.
Soon, some users, Husar included, began taking real-life action when they noticed calls for help coming in, slowly morphing the page from a gallery to a rallying point for evacuees.
"We got a message on Facebook that an elderly woman was refusing to leave her home in Seaside Heights, so we went there and got her on the phone with her son," Husar said. In addition, he and a friend secured some buildings where windows and doors had been damaged or smashed.
Emergency personnel even monitored the page to find out who needed help.
"We did monitor the page for people that needed rescue, and we did act on postings that we found," Mary Goepfert, spokeswoman for the state Office of Emergency Management, told USA Today.
"911 was so overloaded that help was not immediate," Auciello said, and if residents posted their addresses and needs, the wide following of the page meant they'd eventually get assistance.
Two weeks after the storm, the page is still going strong. The latest updates include one thread where prospective tenants, including some displaced residents, connected with landlords to find new homes.
BEFORE YOU GO
PHOTO GALLERY
The Heroes of Hurricane Sandy