Apparently Dan Urbano had no idea just how much the Internet loves cats.
According to ABC, when Urbano's 7-year-old son Remi begged for a pet cat, the father of two suggested a bet, one that Urbano thought his son would lose. Remi's mom, Marisa, helped the little boy upload a photo of himself with his 1-year-old sister Evelyn to Facebook, describing the terms of the wager: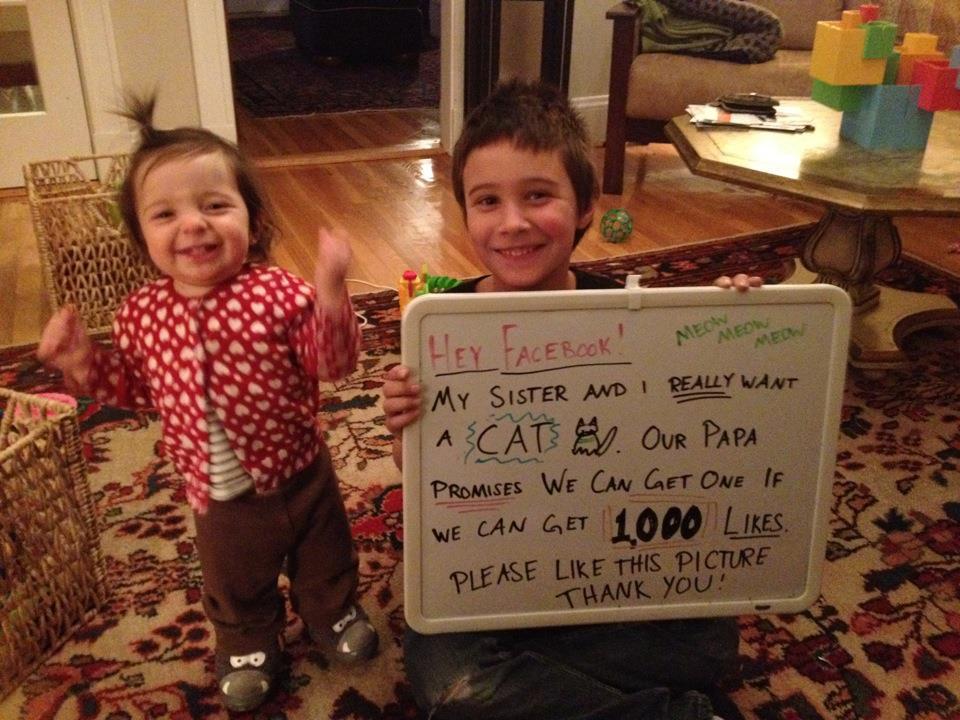 On Monday, Marisa told "Good Morning America" that the family knew within hours of posting the picture that they would be cat owners. Just one week later, it has more than 115,000 likes.
As promised, the Urbanos adopted a cat from a shelter over the weekend. They planned to name their new pet "Hairy Pawturr," ABC reports, but because they got a girl cat, they called her "Hairietta L. Pawturr" -- the "L" stands for "likes."
And, if the Urbanos are ever concerned that their kids might not know how to properly raise a cat, we know a 9-year-old who can help.
UPDATE: Parenting.com reports that since the Urbano's story went viral, people have been asking if they could send gifts to the family's new pet, Hairyette. Instead, they've suggested donating to the Gifford Cat Shelter in the cat's name.
(h/t Parenting.com)
BEFORE YOU GO
PHOTO GALLERY
Lessons Kids Learn From Pets