Actress Denise Richards headed to New York to lend a hand in the wake of Hurricane Sandy, and she also opened her home to puppy displaced by the storm.
Richards headed to the North Shore Animal League in Long Island, N.Y., on Saturday to help spread the word about relief efforts and encourage animal adoptions, according to People magazine. The shelter has received an influx of abandoned pets who were displaced after Hurricane Sandy ravaged the region.
SCROLL FOR PHOTO
Richards brought along her daughters Sam, Lola and Eloise to help.
Day off tomorrow. Heading to an animal shelter, to help out. Over 600 rescued from the hurricane. My girls are coming to help too.

— Denise Richards (@DENISE_RICHARDS) November 9, 2012
While there, Richards fell in love with a little black puppy and adopted her.
"Denise Richards visited North Shore Animal League America headquarters yesterday to provide vital help in spreading the word about our disaster relief efforts and encouraging adoptions," reads a post on the shelter's Facebook page. "During their visit Denise and her family fell in love with Tara the Labrador Mutt-i-gree puppy and welcomed her into their home!"
Richards has always been fond of animals.
In 2010, she revealed to People that her friends call her Dr. Doolittle because of all the once-homeless dogs she has taken in. "I swear, if there's a dog stranded somewhere, he finds my car, and he finds me," Richards told People at the time. "If anyone is looking to get a dog, they ask, 'Can you help me?'"
"It's so heartbreaking to walk away from the shelter after seeing the ones that aren't going to be adopted," she said. "They've had a rough life. I hope to be able to open a sancutary to help them."
The North Shore Animal League America has 650 animals at its New York shelter in need of homes, according to the New Hyde Park Illustrated News.
LOOK: Denise Richards adopts a puppy from the North Shore Animal League in Long Island, N.Y.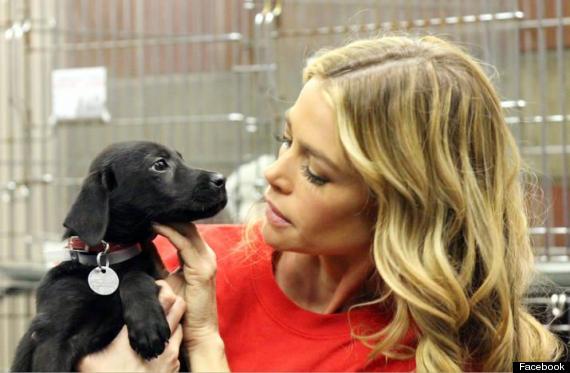 BEFORE YOU GO